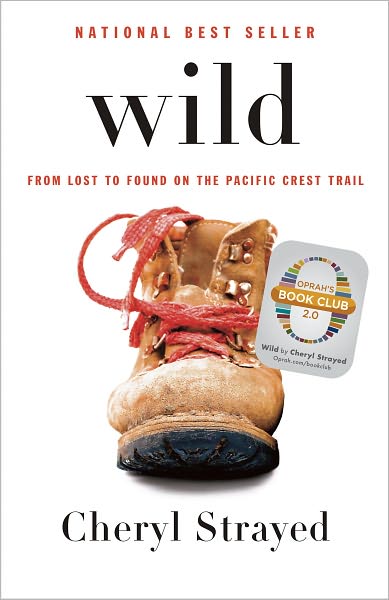 As a woman who has traveled extensively through the wilderness, alone, two kinds of cliche adventure stories make me wince in frustration: accounts that are adventurous merely because the traveler is female and single, and tales of travelers seeking redemption in the woods. Surprisingly, Wild: From Lost to Found on the Pacific Crest Trail (Alfred A. Knopf, 2012,) Cheryl Strayed's new memoir about her emotional solo-hike along the Pacific Crest Trail, falls into both categories, yet I never noticed.  With persistent honesty and humility, Strayed offers a deeply moving story of grief and incredible strength.
At the age of 26, still reeling from a period of self-destruction that followed her mother's death and the dissolution of her marriage, Cheryl Strayed impetuously set out to hike the Pacific Crest Trail, a narrow ribbon of wilderness that follows the spine of West Coast mountain ranges from Mexico into Canada.
Wild is very much the story of a woman hiking alone—Strayed keeps the world's loudest whistle hanging within easy reach, considers the possible dangers of hitchhiking, develops crushes on her fellow hikers, struggles to pick up her enormous pack, and battles feelings of inadequacy in the traditionally male-dominated world of long-distance backpacking.
At its heart, though, Wild is the story of Strayed's relationship to her mother and her mother's death, the event that scattered her family and sent her spiraling through drugs, brief affairs with strange men, and self-loathing–the event that eventually led her to hike the PCT.
"My mom was dead," Strayed tells us.  "Everything I ever imagined about myself had disappeared into the crack of her last breath."  Walking down the PCT thus becomes her desperate attempt to find the self that vanished with her mother.  Strayed's journey through grief feels as real and raw as her hike.  Her feelings about her mother veer wildly, from "She had so profoundly failed me" to "Fuck her, I thought, so mad that I stopped walking" to telling us all she could do with her emotions was "wail."  As a reader, these conflicted, contradictory outpourings of grief and rage at her mother moved me most.
In fact, I became so caught up in Strayed's struggle that I wasn't prepared for its end.  Wild's conclusion seemed too abrupt.  Despite my aversion to the genre, I wanted that wilderness epiphany. But Strayed stays true to experience, and anyone who's ever been on a long hike knows that you do rush down the final descent, pushing on until suddenly you are done, returned to a world of cars and ice cream and businessmen in suits.  There are no Finish banners to break, no congratulatory medals.  Your life does not suddenly become clear.  But the experience does profoundly change you.
After struggling along the trail with Cheryl Strayed, I realized I didn't need the flashy ending I'd unexpectedly craved.  I'd seen the author cross snow fields and yell at bears, hike through painful blisters and lost toenails, and walk away with only two cents in her pocket.  I'd seen her cry for and rage at her mother.  And I knew, in a very intimate way, that she was going to be okay.   As a reader, I could release her, and my vicarious grip on her story, as she released herself—with surprising speed, unceremonious simplicity, and profound gratitude for the journey.
—
Kate Ver Ploeg holds an MA with a concentration in creative writing from Western Washington University, and has published her prose in Cold Mountain Review  and other journals. She is currently on a six-month bicycle trip through remote parts of Asia and Eastern Europe; an account of her travels can be found at a blog titled Under A Wide Blue Sky: Biking the Silk Road from Mongolia to the Mediterranean.