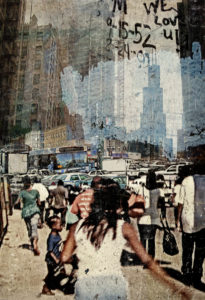 True or False: Gender oppression is way worse than racial oppression.
True or False: I am aware that Black women experience both, but feminists should stick together and focus on fighting sexism, instead of getting distracted by what divides us.
True or False: Racism is mostly about personal slights and hurt feelings, not a systematic form of oppression.
True or False: I am aware that white women directly benefited from American slavery and that enslaved Black women were routinely raped by white men, but that happened a long time ago and has no bearing on our lives today.
True or False: I am aware that Black women's low-wage labor as housekeepers and nannies made it possible for white women to enter the workforce in record numbers decades ago, but we are natural allies in the fight for equality today.
True or False: I'm a beneficiary of white supremacy, but I'm sick of Black women making everything about race. I think they just look for things to be offended about.
*
I don't know the historical origins of whiteness, but I am qualified to say what Black women need to do and am well informed about Black women's lived experiences because:
I know about sexism.
I'm a good person.
I'm an anti-racist ally.
I have curly, hard-to-tame hair.
My BFF in undergrad was Black.
*
True or false: When Black women tell me that I have race privilege, this is just as bad as calling someone the n-word.
True or false: When it comes to race relations, both sides are equally to blame for racism because I don't know the difference between racism and racial prejudice.
True or False: I am one of millions of white women saying ignorant, racist shit to Black women every day, and on a given day, I may be one of several white people who have worked a particular Black woman's last fucking nerve with my ignorance.
True or False: Black women should be nicer when trying to get people to support their cause.
True or False: Black women should be willing to educate me and other white women, tirelessly, for free, instead of expecting us to educate ourselves.
True or False: If Black women calmly and patiently educated me with citations, links, and expert scholarship as to why what I said was ignorant and racist, I still wouldn't believe them.
True or False: I have been a victim of online bullying by Black women after I attempted to silence them by selectively quoting Martin Luther King, Jr.
True or False: I'm insulted and offended when Black women tell me to adopt a listening and learning posture in conversations about white supremacy, because from the time I was born, I have been taught that I deserve to be affirmed, prioritized, and in charge.
True or False: I'm more upset about Black women telling me that my words and behavior are racist than I am by the fact that I'm being racist.
True or False: My feelings are more important than Black women's pain.
True or False: When I cry white woman tears because Black women aren't nice to me, I am aware that these are historical tears, that my tears have fueled racial terror and the murder of Black people in America for hundreds and hundreds of years.
*
I am tired of hearing the following words:
intersectionality
white feminism
misogynoir
white fragility
Becky
*
True or False: I daily debate with men about my humanity and lived experiences as a woman in a sexist society.
True or False: Every time these men deny their undeniably misogynistic behavior, I educate them, for free, in dulcet tones, as they tell me I'm just looking for reasons to be offended.
True or False: When women ask nicely, men happily give up their male privilege.
*
I am well qualified to direct conversations about race because:
Unlike Black women, I am able to be fair, objective, and rational about race.
I care deeply about social justice issues.
I have a degree in women's studies.
My dad said one of our ancestors was on the Trail of Tears.
True or False: I am both the oppressed and the oppressor.
True or False: I hate this quiz.
True or False: I hate Black women. Well, I mean, not all Black women. Just the angry ones.
__
Deesha Philyaw is the co-author of Co-Parenting 101: Helping Your Kids Thrive in Two Households After Divorce, written in collaboration with her ex-husband. Deesha's writing on race, parenting, gender, and culture has appeared in The New York Times, The Washington Post, The Pittsburgh Post-Gazette, Full Grown People, brevity, Dead Housekeeping, The Establishment, Catapult, ESPN's The Undefeated, and elsewhere. At The Rumpus, Deesha inaugurated and curates an interview column called VISIBLE: Women Writers of Color.
Artwork by Damon Locks