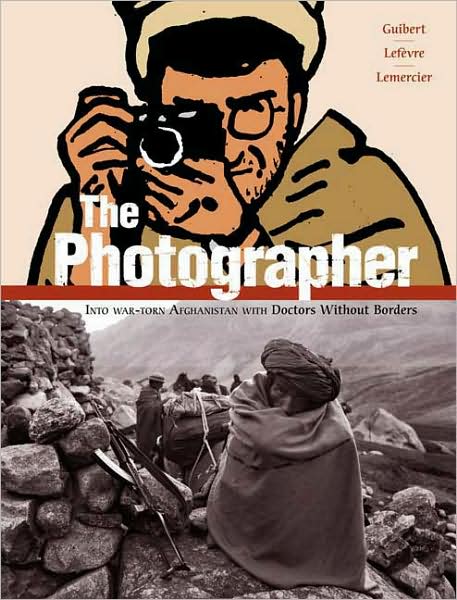 Translated by Alexis Siegel
First Second Books, 2009
At the Wheeler School in Providence, Rhode Island, a new work of art, Welkin, hangs. Four painted glass panels fill the passageway between old and new school buildings.  Welkin is made from the same glass used in military vehicles. The manufacturer advertises it as "transparent armor for vehicle windows and doors in the Iraq theater." For two years, artist Nicole Chesney has experimented with this glass, fusing layers of her paintings into it. The effect is subtle and surprising. Pools of color deepen as the viewer approaches it. In a recent visit with the artist, Chesney said to me, "I suppose as long as we have war, we will need protective glass."
True, and as long as we make war, we will need art to comprehend its consequences. Photographer Didier Lefevre must have felt this way when he accepted the assignment in 1986 to document a French Doctors Without Borders mission in Afghanistan. More than a decade later, Lefevre with his friend and illustrator Emmanuel Guibert and graphic artist Fredric Lemercier created an artistic bridge that takes the reader into the many layers of war in The Photographer.
This artistic challenge — to prolong the opening of our lens and suspend any simplistic notions we entertain about war — is handled by a new form of narrative. Black and white contact sheets, illustrations, and text are combined to tell Lefevre's story. Together they give the feeling of film footage. Lefevre documents a man being treated for a "minor wound," extraction of a bullet. Lefevre writes, "That's a scene I've seen a hundred times at the movies: The hero takes a swig of whiskey … they extract the bullet with a pliers … then the guy wipes the sweat from his brow and is fine. The truth is the whole thing is excruciatingly painful."
This is nothing like any war movie that I have ever seen. In The Photographer, there are scenes captured as Dr. Juliette Fournot negotiates safe passage with factions of the Afghan resistance. The Afghanistan women teach Dr. Fournot how to deal with the men. After years, Fournot laments, "… more and more, their only role models are teenagers who don't know anything other than fighting … There's no one to explain to them that knowing things is better than hacking each other to pieces."
At the Wheeler School, children are inspired by the four panels of Welkin. Other possibilities exist for Chesney's work, such as American embassies worldwide. If art offers a moment of reflection before important negotiations, then it will serve its purpose as it does in The Photographer.
—
J Luise is is founding partner of Wiv, Inc (www.WivInc.), a company that introduces businesses to innovative ways of thinking. She earned an MFA in Goucher College's creative nonfiction program and served a postgraduate fellowship at Massachusetts College of Art and Design.