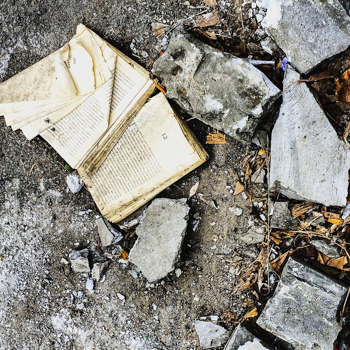 This morning a man jumped his car over a curb and emerged—silent, stoic, a phantom, someone said, he was so ghostlike as he moved—to stab eleven people with a cleaver.
The man I love more than any other sat in his Yiddish Literature classroom, one building over from the stabbings, where just a week before he'd asked his professor if, in lieu of a final paper, he might write a "sophisticated, rhythmic rap" on the cultural heritage of his people.
I'm intrigued, his professor told him, and in the retelling of this story, Ben skimmed a rawhide bone across our dog's back until she whipped her head and yipped. He said, I've already come up with the opening line.
I hadn't seen such joy on his face in months.
He might have been adding another line at the very moment the SWAT teams surged across the Ohio State campus, his classmates' phones lighting up with the terrible glow of the very worst kind of warning, people like me everywhere, anywhere, asking, as if clutching to love, Are you there? Are you alive?
*
Ben was in the Yiddish Literature classroom because of me, enrolled in that school because of me, a resident of this Midwestern state I'd moved to two years earlier full of hope and vigor and naiveté because I'd asked him to follow me, and because I wanted him to fully share in the life I was only half-certain we were creating.
This is where my mind went: We were creating what one man could stop.

*
So when he called and said, I am hunkered down in the back of the classroom, said, I helped stack a dozen chairs against the door, said, I don't know, I didn't hear 'popping,' but it is mostly quiet now except for crying, I thought of consequence. I thought of the Wailing Wall—the beautiful strips of paper where, months earlier, his father and Jewish grandmother wrote our names on a piece of paper, tucked them into ancient stone.
They believed in us, they told me later, and they believed in the love we shared. It was their faith that gave me comfort, how they seemed capable of seeing what remained otherwise invisible: how one heart had opened tenderly to another, like petals unfolding gently to reveal the softest bud.
*
What I knew of faith before I'd met him: unfathomable shame and my face, flushed, hot, as a boy hung upside down from a tree and said my brothers and I were going to hell because we did not believe in God. His mother had told him this. He was only allowed over because we had a swimming pool.
What it is to be told as child you are, at best, judged by others and, at worst, doomed for eternity: hell on Earth, as heaven can be.
But now, a child grown, I find myself comforted by faith, by the idea of a truth that builds steadily upon experience, a bead added to a string of beads earned each day, every day, prior.
We were together in Israel. We were together in Ohio.
*
I am trying to change my heart, which, like a sponge that fills with water, must bloom from a small, hard mass.
*
Twenty-seven miles north of the college campus, I worried the person I loved more than any other would be killed.
Ben was not killed, was evacuated, drove a shaking woman home, then traced the twenty-seven highway miles between us to sit beside me at our small-town diner, where we ordered hamburgers.
I do not know if there is a God, do not know what it is that possesses anyone to claim they know the universe, our place or purpose, our origin narrative. It is what has always wedged its way between us.
But if God exists, He did so exclusively that morning in the perfect beautiful sacred silence shared between us. It says something about the heart, I think, about forgiveness, about rising above any and all pain in the moment life demands it—not so we might start again, or make a relationship somehow stop failing, but rather, allow it the grace to be what it is: a tiny pocket tucked in time where goodness, somehow, still shimmers.
And what a gift it was, plain and simple, to hear him order, that afternoon, a second cup of coffee.
__
Amy Butcher is the author of Visiting Hours: A Memoir of Friendship and Murder, and an essayist with recent work in Harper's, The New York Times "Modern Love," The New York Times Sunday Review, The Washington Post, The Denver Post, The Iowa Review, Guernica, Gulf Coast, and Fourth Genre, among others. Her work was recently featured on National Public Radio and BBC, awarded grand prize in the 2016 Solas Awards' "Best of Travel Writing" series, selected for inclusion in Best Travel Writing 2016, earned notable distinctions in Best American Essays 2016 and Best American Essays 2015, and awarded grand prize in the 2014 Iowa Review Award. She teaches at Ohio Wesleyan University and annually at the Iowa Summer Writing Festival and the Sitka Fine Arts Camp in Sitka, Alaska.
Photo by Heather Kresge