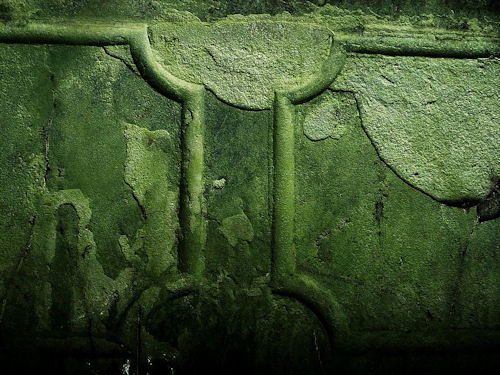 Friday afternoon at four. From the great light-stained glass windows, through pilgrim people and tulips, translucent-colored shadows in chaos across the green carpeting. I sit under these windows in this cold colored puzzle of light with Liz who weeps in a sleeveless dress. The rest of class rushed out of great Graves Hall into Spring Break—broken week, broken term, the warm week ahead.
Liz had lingered as I packed up markers and books and essays. Asked if she could explain.
I'd noticed her red dental floss hair was pulled into a kind of strange horn, pointing out of the back of her head. And I'd noticed she didn't speak at all in class. Usually she had such insightful things to say, I worried about my poor preparation. What could I ever teach her?
We sit on a bench in the dark quiet in Graves, the oldest building on campus: stone cold, dark wood ceilings, deep paneled walls. A coffin.
Liz has no tissue. I have a kind of useless fabric: a book of sonnets, the stack of hasty essays composed by girls in pajamas while tapping on cell phones, a boy who wears, every day, a fez.
I open my palms, close my eyes.
Liz weeps cold and hard.
Her mother died. My mother died.
Stay, Liz, I whisper, stay in this breath. As I whisper these words I wonder who do I think I am?
Agony comes from the word for protest—agony is a taking issue with grief, as in no, I vehemently disagree. Agony. Too much sadness for our small bodies, which are so pink and strange in stone buildings, under high coffered ceilings. My hair's a mess, too. And I dread May. The end of the semester. Summer. Days with no students, no classes, no busy-ness to organize me.
From the high windows, a blue light passes across Liz's cheek, a tattoo, in the shape of a foot.
She is doing the breathing thing. Will she stop weeping? I wonder how long we will be here. What I could say next.
She shakes.
I'm with you in this, I whisper. Crying is not bad, it feels bad. You can cry.
She spills out sentences between the sobs. She's tried five medications. It's been five years since her mother died.
"What happened to her?" Maybe no one asks anymore. No one asks about my mother. Really, we don't ask about each other.
Breast. Cancer. I should be over it by now. I know.
"Time doesn't apply, does it?" I ask. I'm not sure whom I'm looking for these days. Or whom to leave behind. But I do know this: time applies to grief like time applies to music.
So I sit with this unshowered messy beautiful brilliant weeping woman under coffered ceilings in Graves, her sadness unmoored in the long empty halls. The campus quiet as though underwater. We are sad.
Take your next breath, take it slow, I will say to Liz. The only thing the dead can't do.
—
Heather Sellers is the author of the award-winning memoir You Don't Look Like Anyone I Know, and the linked short story collection, Georgia Under Water. She teaches fiction, poetry, and creative nonfiction at Hope College in Holland, Michigan. (Heather blogs on the origin of this essay here.)
 Photography by Eleanor Leonne Bennett