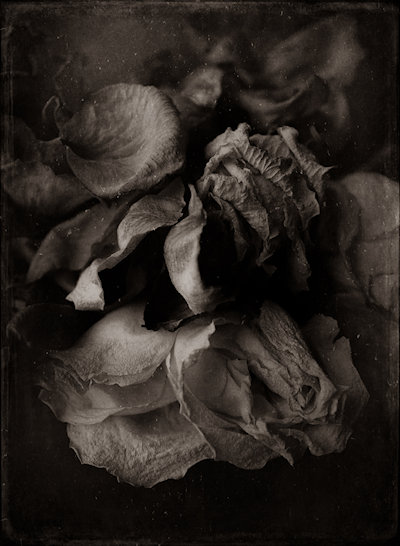 —and I like how it feels, his hand, a little thick. The way it spreads my fingers open to make space for itself. How we have similar heat and feel familiar in our touch. His soft skin. How in between our palms we hold a feeling. Words we haven't yet said.
—on a slow night in downtown Los Angeles. "Faggots!" a voice shouts. The word knocks against the buildings like a pinball, upsetting an otherwise quiet street.
Miguel looks around. "It's a homeless guy."
I look Miguel in the eye. His expression has surprise. For me it is all too familiar—the word, the setting, the way my heartbeat accelerates.
We don't let go.
—after midnight with Miguel's friend Dominique, visiting from Oakland. At the corner of Broadway and 7th, we wait for the light to change. A man crosses against the signal, wheeling his bike at his side.
His eyes bore into mine. With his free hand, he's raised a fist and holds up to me his middle finger, steady, his expression unchanging.
Miguel doesn't see it. Just Dominique and me. When the man passes, I look at her. "What the fuck," she says.
"Right?" I agree. Miguel looks at us quizzically. I explain.
He shakes his head. We look across the street, where the patio at Bar Mattachine swells with gay men and their voices.
We don't let go.
—on Sunday afternoon, crossing Spring Street. It is bright, sunny, warm. Postcard Los Angeles. The Downtown Farmer's Market bustles with people passing through. Bikes flash through the intersection next to us.
A man, wearing a wrinkled shirt speckled with stains, stands on the corner. He moves to get our attention as we pass. I look him in the eye.
"Be careful out there, guys," he says, and nods gently.
We keep walking. I count the number of straight couples who pass us hand in hand. Middle-aged. Twentysomethings. A mix.
I count five in the space of a block.
Do they worry?
We don't let go.
—and Miguel says, "This kind of thing hasn't happened to me before."
"What?" I ask.
"The shouting," he says. "The comments."
I came out when gay bars had blacked out windows to protect the people inside. When gay people were so rare that I volunteered through the campus LGBT center to speak in residence halls about what it was like to come out. When I was commonly the first gay person someone ever knew they met.
I was called faggot almost daily in high school. Miguel wasn't. I squeeze Miguel's hand a little tighter. "It's familiar to me," I say.
We don't let go.
—at a Bird and the Bee concert at Teragram Ballroom. I stand close to him. I put my arm around him. I want to be near him.
He looks up at me, smiles in a way that I know what he is feeling, an echo of what I'm feeling. We kiss.
Throughout the show we are like this. We are clearly two men in love who cannot help but radiate it.
After the show, a woman taps his shoulder. "I'm sorry," she says, "but I just need to tell you you're like the cutest couple I have ever seen." We laugh.
"Thank you," Miguel says. He glances at me, eyes sparkling. I smile at him as widely as my face allows.
We don't let go.
___
Charles Jensen (he/him) is the author of two poetry collections and six chapbooks of poems. His third collection, Instructions Between Takeoff and Landing, will be published by the University of Akron Press in 2022. He received the 2020 Outwrite Nonfiction Chapbook Award for Cross-Cutting, a diptych of essays that hybridize memoir and film criticism. In 2019, the City of Los Angeles Department of Cultural Affairs designated him a Cultural Trailblazer. His poetry has appeared in American Poetry Review, Crab Orchard Review, The Journal, New England Review, and Prairie Schooner, and essays have appeared in 45th Parallel, American Literary Review, and The Florida Review. He founded the online poetry magazine LOCUSPOINT, which explored creative work on a city-by-city basis. He lives in Los Angeles and directs the Writers' Program at UCLA Extension.