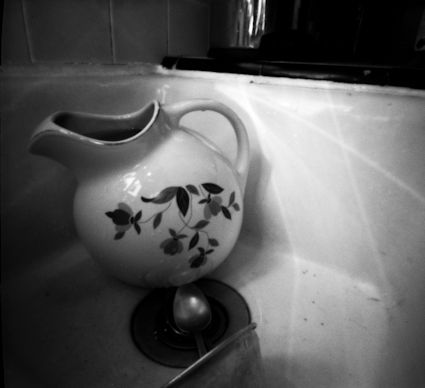 When I was seventeen, I spent a lot of time in another family's home. We slept on futon mattresses back then, covered in flannel, with thick dark fabric over the windows. The beige carpet was scorched and melted dark where the frying pan of cigarette butts had tipped over to smolder. That summer, I lived on orange juice and amphetamines, Sweet Jane out of the Grateful Dead, no shoes, no sparkle. I drank sugar to make up for what was missing inside. At night, the ants came—big and dark. In the morning, my cup was black and moving, a squirm, a swarm, raised to my mouth.
In another life, I would've married that family's son, instead of yours. Yet I am now engaged to your oldest, and there are so many questions I can't answer: If I follow your son north for his work, for instance, or stay here, in Florida, for my own, when will we exchange vows? It should be simple, you say, now that I've answered Yes, but I am easily troubled. Your life looks all blonde and golf afternoons, but here is mine:
Your son has moved away. The apartment is clean and well-lit by the Tampa sun stretching across the floor, but ants have moved in. I find them, most puzzlingly, on the bathroom sink, their brown bodies contrasted against white porcelain. They hide in the shower grout. But there's nothing to eat in here, I say to them.
I rub vinegar in the ant trails, mumbling sorry, sorry to no one in particular. Death by the dozens, each paper towel a small graveyard. The food in the pantry is overrun: the chubby marshmallows, the bag of grocery-brand light brown sugar that did not reseal, the almost-empty jar of honey. I clean the kitchen counters like it is my profession. Spray, set, wipe.
I move from the highest surface down; gravity as a small helper, so I don't clean the same crumbs twice. To reach the top cabinets, I balance on a stool not meant for standing. My right knee pops in protest as I lurch up. Here, on this unreachable ledge, is the coffee canister that months ago I'd incorrectly imagined held the ring when I knew it was in the house but not yet on my finger. Your son waited nearly two weeks to ask, while I dug through the cabinets, impatient and innocent-toned: Could you pass me the —?
I pour bleach straight from the bottle onto the bathtub tiles. The ants persevere. So I move from a position of offense to one of withholding. I stop cooking. I eat raw vegetables and restaurant food for a month.
These ants are inoffensive and small, feel like the brush of cat whiskers on their march across my skin, but they are troublesome for the way they feel like echoes, leave me dragging my nails over my skin in imaginary itches, like I am seventeen again and sleeping in flannel.
Nothing works. There's no simple answer. I cannot find the sweetness that keeps them happy in my home.
___
Alysia Sawchyn currently lives in the metro DC area and teaches at the University of Maryland. She is also a nonfiction editor for Sweet: A Literary Confection. Her writing has appeared in Fourth Genre, Prairie Schooner, and elsewhere. You can find her on Twitter @happiestwerther.