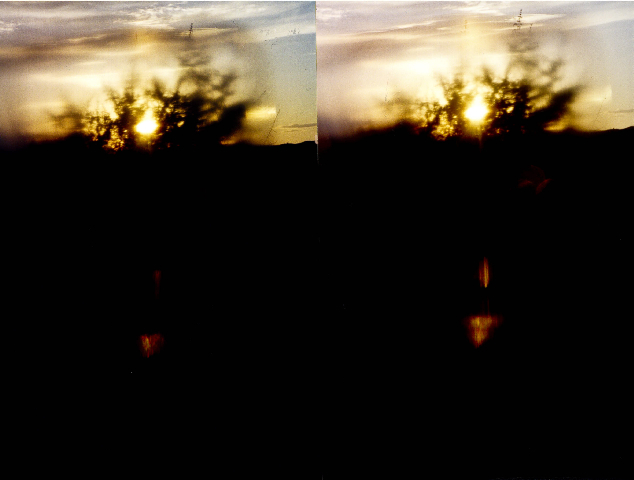 I'm sorry about that time I ran over a piece of wood in the road. A pound of marijuana in the trunk and a faulty brake light—any minute the cops might have pulled us over, so you were edgy already, and then I ran over that piece of stray lumber without even slowing down. Thunk, thunk, and then the wood spun behind us on the road. Your dark face dimmed even darker, and you didn't yell at first, only turned to look out the window, and I made the second mistake: What's wrong? That's when you exploded. You're so careless, you don't even think, what if there had been a nail in that damn thing, you yelled, your face so twisted now, and ugly.  And I'm always the one that has to fix it whenever something breaks.
I'm sorry, I said, and I said it again, and we continued on our way through the desert, in the dark of night, with the contraband you had put in our trunk, with the brake light you hadn't fixed blinking on and off, me driving because you were too drunk, or too tired, or too depressed, and we traveled for miles into our future, where eventually I would apologize for the eggs being overcooked, and for the price of light bulbs, and for the way the sun blared through our trailer windows and made everything too bright, and I would apologize when I had the music on and when I had it off, I'd say sorry for being in the bathroom, and sorry for crying, and sorry for laughing, I would apologize, finally, for simply being alive, and even now I'm sorry I didn't swerve, I didn't get out of the way.
—
Brenda Miller is the author of the essay collections Blessing of the Animals (reviewed in this issue) and Season of the Body (2002) which was a finalist for the PEN American Center Book Award in Creative Nonfiction.  She has received five Pushcart Prizes, and her work has appeared in numerous literary journals, including Fourth Genre, Creative Nonfiction, The Sun, Utne Reader, The Georgia Review and Witness. She co-authored, with Suzanne Paola, the textbook Tell it Slant: Writing and Shaping Creative Nonfiction and she serves as editor-in-chief of the Bellingham Review.
Photo by Tricia Louvar