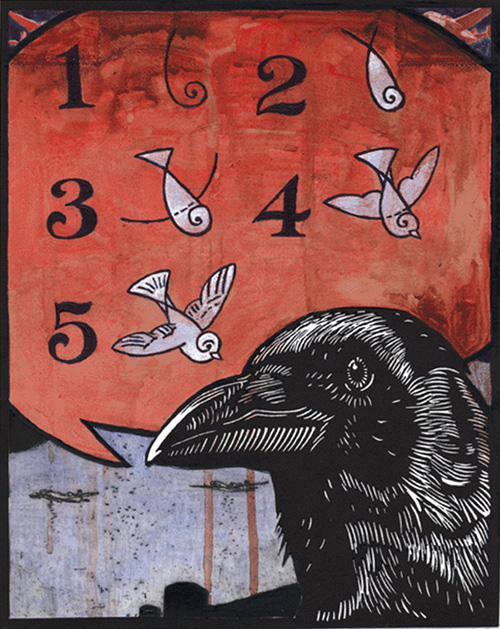 You don't write about me, he once complained. Or maybe twice, maybe he was always asking why he never landed on my page.
You give me no trouble, I told him. You're simply here whenever I check.
Perhaps one day I'll surprise you.
That will be the day, I said, and then that day, it came.
He called to say it all went through. That's all I have—he had to say this to His Honor. I imagine he held his hands out before him, cupped and holding air. He nursed a bird once with those same hands. His hair hung long then, the bird a beating quiver on his palm.
Do you think you'll be OK? he asked, just before we parted.
I do, I said. I do.
He laughed at this. I've heard that one before. And by a laugh I mean that choking kind.
There is a poem I once read. It spoke of birds in flight and how they'll never, ever end. And how we will. Oh how we will—I think it goes like this: It's we who do. And then it ends.
To think nicely on those years I think of times like that, the bird held in his hand, our dog rolled in his lap, the art he made of thorn and cherry wood. I think about the night we married, how he fell asleep at dinner because he missed the Nightime on the Tylenol. I ate the salmon, drank the wine, curled beside him in the bed.
Give me more, I want some more, I need some more to fuel my moving on.
But that's all I have.
Certainly there were bad times, too. The time he shaved his chest, for what? The time it all grew back in itchy tufts. The time he touched and I recoiled. You feel like a dog brush wearing legs, I said. I mean, the times.
I fell in love with the girl I went running with. She was soft and oh, the way her hair fell down around my face. It made no sense to me; it makes no sense to me at all. How desperately we cling and then how desperately we run away.
I gave her up. It wasn't hard; there wasn't much of her to hold. I missed the dancing at the Eastside Club. I missed her dressed in black, me dressed in white, we making everyone around us yearn.
I did write about him then. I made allusions to his body and how I wondered where his might end up—with whom, I meant—but it was sentimental and the rhythm was off. And now that's all I have to send him out into the world. I'd like to honor him, somehow—this man, my husband of so many years—I'd like to tell the world about the way he caught the broken bird before she flew again into the window, the way he made her tiny beak open up to drink the water, the way he let her frightened claws grip sharp into his pinky. The way he knew when it was time to walk outside into the day, open up his gentle hold. She took the air beneath her wings; he let her go—his hands held out before him, honorable and proud and cupping nothing but her breeze.
---
Kate Hill Cantrill's writing has appeared in literary publications including: Story Quarterly, Salt Hill, The Believer, Blackbird, QuickFiction, Mississippi Review, Smokelong Quarterly, Swink, and others. She has been awarded fellowships from the Corporation of Yaddo, the Jentel Artists Residency, the Virginia Center for Creative Arts, and the James A. Michener Fund. Her short story collection, Walk Back From Monkey School, will be published by Press 53 this coming Fall.
Illustration by Marc Snyder