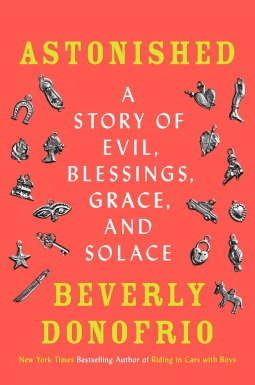 This past spring I attended a writing workshop with the memoirist Beverly Donofrio. The prompt she used to get our group of pens moving was this:
Complete these three statements: I come from…, Once I…, and Now I…..
Immediately, the sound of ink rollerballed against moleskins as the twelve or thirteen of us dug deep into our pasts and presents to find these hidden gems. It was a great prompt handed down to Donofrio by another master somewhere along the road, as most prompts are. But it wasn't until I sat down to write this review of Donofrio's latest book, Astonished: A Story of Evil, Blessings, Grace, and Solace (Viking, 2013,) that I realized how relevant that prompt is to Donofrio's work.
Donofrio comes from Riding in Cars with Boys, from a cop and his wife, from a small town in Connecticut. She comes from a teenage pregnancy, the streets of the East Village, a hard-fought college education, a journey of motherhood, and a place of unpleasant truths.
Once Donofrio was Looking for Mary, only to find the grace of the blessed mother inside herself, a thousand miles from home.  Once she was looking for forgiveness. Once she was collecting statues and falling in love with Our Lady of Guadalupe over and over again. Once she was lapsed Catholic, a disillusioned woman who climbed her way into the light of the goodness of God.
Now Donofrio is Astonished. Now Donofrio is able to forgive a rapist, find light in the darkness of a cruel world, and see her place in her own family.  Now Donofrio is fifty-five, a grandmother, and through this book, we sense that she is wiser and more at peace with herself than she's ever been.
As Donofrio's life strayed further and further from the spirituality she had coveted for almost a decade, she began to lose herself in the beautiful Mexican town in which she had settled. Salsa dancing, yoga, building a home, and a busy social life pulled her away from the intensity of her faith.
"God began to fade like fabric in the sun," she writes. The final test of her spirituality came on a hot summer night, when she was awakened by a serial rapist and the blade of his knife at her throat.
Donofrio survives the rape physically, but spiritually, something inside of her is stirred. The author then ponders what she began researching only two weeks before the rape: life in a monastery.  Astonished then becomes a story of faith, or more appropriately, a challenge of faith in all of its forms, from her relationship with God, to the relationships with her son, her new grandson, and even her aging parents.
In Astonished we also see, one of my favorite personas of Donofrio's writing, the author as daughter.  The chapters in which Donofrio writes about her mother have real teeth, and I often had to sob my way through them.
What I've always loved about Donofrio's work is her brutal honesty, it's what her readers have come to expect, and she does not disappoint. In Astonished, Donofrio offers up an anecdote about a dinner meeting with director Penny Marshall and Jim Brooks, the producer of Riding in Cars with Boys. At the dinner, Brooks stands and makes a toast in which he refers to Donofrio as "our favorite slut." Marshall immediately leans over to Donofrio and asks how she feels about being called a "slut," and the author replies, "Fine."  She then goes on to lament that it was probably true in her early life. Marshall then compares Donofrio to Sisyphus, "pushing that rock. Knock her down and she gets right back up."
This anecdote perfectly captures the essence of Astonished and of the author. Each of Donofrio's memoirs have been a journey, both outwardly and internally.  Perhaps the biggest journey present in all of Donofrio's books, is the pushing of that rock. This is a woman who will not give up, give in, or give out.  When I think about the workshop in which Donofrio offered up that prompt, I cannot help but think of the hymn "Amazing Grace": I once was lost, but now am found.  If ever there was a story about being found, Astonished is it.
—
Amye Archer holds an MFA from Wilkes University.  Her reviews have been published in PANK, Necessary Fiction, and Provincetown Arts.  She lives at www.amyearcher.com