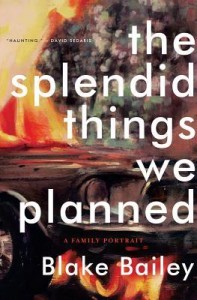 That brother. You know the one. Conversations about him start with a sigh. He's last on the list when relatives are discussed, the pause long before his name is mentioned. I refer to mine as the "Drunk Brother in a Cabin." The response, "You've got one, too?"
Blake Bailey, known for his biographies of Charles Jackson, John Cheever, and Richard Yates, suffers his brother in spades. Scott, Bailey's older and only sibling, is the central character in Bailey's memoir, The Splendid Things We Planned,.
Bailey's young parents (German immigrant Marlies and lawyer-to-be Burck) trade in the "heady affair" of their Manhattan lives and marry after Marlies becomes pregnant with Scott. Family time begins in a New York University dorm, and the couple is soon driven to desperation by the weight of their new responsibilities and their baby's constant screaming. Burck and Marlies, according to stories they share in later years, consider both suicide and infanticide before Scott becomes a quiet, but antisocial toddler. He's a little boy with a penchant for dangerous climbs, who enjoys his imaginary friend, Ralphie, more than the real neighborhood kids. The book can be a tad dark.
As if the infant's ceaseless crying and risky behavior were metaphors for the future, the growing Scott never learns to soothe himself nor to let his family's love be enough. Scott seems to lack some crucial sense of self, and his best attempts at filling emptiness are during his elementary years when he appears to be an engaging, polite, and handsome child.
However, Scott reveals to Bailey that he actually exists in two worlds: his real one and another with a much finer, more appreciative family, one with no little brother. Scott has a fully formed image of this family; he tells Bailey about his fantasy parents who are completely different from his current stand-ins, who are devoted to him and take him on trips. Bailey is stunned by the detailed portrait and the emotion with which Scott describes his better life. This moves both boys to tears.
Scott's adolescence is difficult, marked by increasing arrogance about his superiority in all things and his abuse of Bailey. Even Scott's position of most handsome brother deteriorates when he experiences a late, heavy, and prolonged outbreak of acne. As he reaches adulthood his attempts at acting, his embrace of fundamental Christianity, and even his stint in the Marines, all seem a continued search for a family worthy of him. Unfortunately Scott meets with continued failure and his increasing reliance on alcohol and drugs leads to a series of car accidents, job losses, and ultimately jail. None of this mitigates his insistence that he is special and needs no help.
While Bailey does not flinch from describing Scott's escapades—the worst often corresponding with Christmas—he outs his own shortcomings with equal fervor. At one point Scott predicts to Bailey that he'll turn out even worse. Indeed it is Bailey who the family struggles with the most—alcoholism, drug use, and social missteps wounding his loved ones and causing his parents to distance themselves. This memoir's middle section is a long read of increasingly antisocial behavior by both brothers.
It takes Bailey eleven years to write about his family — to finally give voice to the nuances of his brother's behavior, acknowledge his own misdeeds, and find humor and even love for the sibling whose needs could never be satisfied.
The reader—well, at least this reader—wants to know the whys of Scott. How did the screaming infant become the damaged man? Bailey gives us precious little information. There's no description of a disability, gut issue, or allergy that took Scott off course. There's no contemplation of a genetic misfire that cast Scott's lot long before his birth, and only a mention of a possible psychiatric diagnosis (soundly discounted by Bailey).
Should we just blame the parents? The distant father? The odd mother? I wanted more. But that's the point I suppose. Bailey, his parents, maybe even Scott, wanted more explanation also. We all want to know more about that brother, the one we sigh about—the one you don't want back, but wish he had never gone.
__
Joanne Nelson is the nonfiction editor for The Tishman Review. She has published both essays and poetry, and is a contributor to Lake Effect on 89.7 WUWM. Nelson develops and leads community writing programs and holds an MFA from the Bennington Writing Seminars.