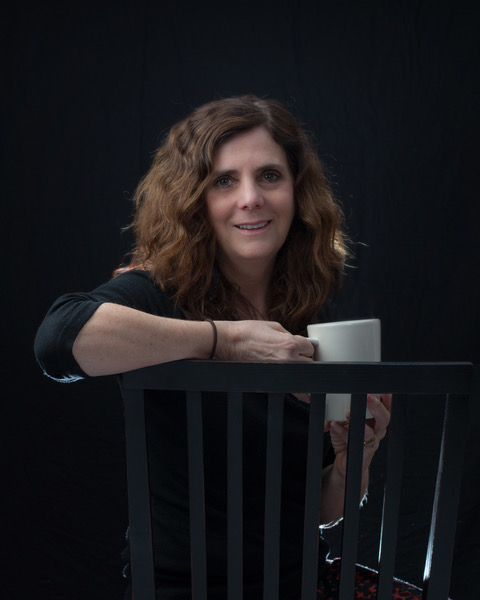 I'd gone and fallen in love with the wrong man.
Said my mother.
She hadn't met him yet, but there were facts. He was Salvadoran (not my country), Catholic (not my religion), a subway-tunnel singer (I shouldn't have mentioned that), an architect who would rather be an artist.
(What sensible daughter marries a rather-be artist?)
And then there was the limit of his wealth: a beat-up Honda Civic that, last time I'd ridden in it, had seized to a halt in the longest stretch of the sketchiest part of town.
But his watercolors, I said.
His stories.
His art.
It was all there in his room in West Philly—laid out to dry. Fabulist landscapes on buckled Arches paper. Winsor & Newtons of ochre and dusk red. Oversized one-off postcards sending news of someone else's planet. I don't know which words to put down here first. How I saw his work, how it made me feel: craggy and leaning back and billowing with time.
When Bill left for graduate school he had no money for a phone and less time to write. He mailed me watercolors instead—washes of color in painfully occasional response to the voluminous ink bleed of my letters. When he returned two years later we built a life—my work on my pages, his work on his pages, a child soon enough, my mother in her eventual (and then steadfast) thrall of him. From poetry to fiction to essays to memoir to fiction to prose poems to categorical breaks for me. From paper to plaster to canvas to Kodachrome to the slick screen to the mud of the earth for him. And oxides. And stains.
There were years when I might have worried less.
Years when the demands of living exceeded the art of life.
Years that flurried on too fast.
But every time I saw my husband's art, I fell in love again.
Art is a tangle. Art is a mood. Art is the conversation you will or will not have, and there were more years and more art before the paintings and photos and sketches and smudges were not just drying in the near air or hanging on the sidewall or slouching in a black frame; they were tricking, twisting, wrangling their way into the stories that I tried to tell.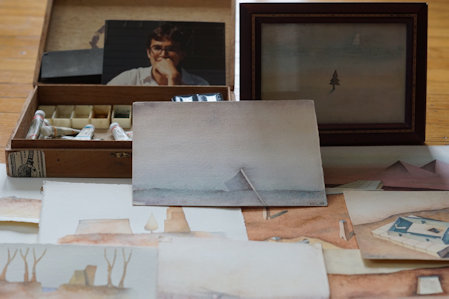 I wrote the wisdom of a garden but the memoir was more wise for having been relieved by Bill's photographs (Ghosts in the Garden). I wrote a crooked little fable populated by crooked little creatures but everything was far more fabulously crooked, more distilled, more true, when Bill drew the characters to life (Zenobia: The Curious Book of Business). I wrestled with the line lengths of a poem that featured a hawk until Bill saw the hawk out there on the closest branch and took its photograph, then gave it to me, so that the shape of that bird might became the shape of my poem; it did. I wrote about truth and how truth gets made, but by then it was abundantly obvious to me: Bill's idiosyncratic drawings, his ghostly photographs, his rubbed-out sketches would make my point better, or make a different point (Tell the Truth; Make It Matter), and now when I teach I bring Bill's art with me and spread it out across the table and say, to my students: "Five minutes, five sentences." Within the blink of that writing eye my students fabricate stories sprung from my husband's fantasies, his yearnings. The stories are theirs but they would never exist without the propagating prod of this perfect stranger's art.
Some stories can be shaped by hand and others just cannot. Bill's colors are of the earth; I lean toward sky. His fabulism is credible; my realisms creak. Saturation is my drug, and trimming is his—take it away, pare it down, confront the final human hollow. We work different media with different hearts but the work is strengthened and abetted—my vision nicked and flecked by his, cracked and glued, called into doubt and argued back, and maybe, were he writing this, he would say something of the same about me. This, I think, is not just the condition of living with an artist; it is the artist's essential condition. To be startled, to be shattered, to be reinstructed, to be redirected, to seek out the thing you could not find yourself and then—by accepting, by contesting—to stumble straight past and then beyond your own constricting imagination.
You don't have to live with an artist to experience the shattering of another artist's vision. You only have to want the dialogue. You have to want to take the work of others as seriously as you take your own, value others as you value yourself, give time to extensions and tangents. You have to allow for different possibilities. You have to look for and then absorb that song, that canvas, that garden as if it were the thing you made, or the thing you might have made, or the thing that might teach you about what you are making. Five minutes. Five sentences. Find your true story in a perfect stranger's art.
Sometimes I watch my husband take a photograph. I stand in the light beside him, study the scene beyond him, watch him bend and snap, and still, later, will be undone by the slice of time he froze (how is that I didn't quite see it?). Or I will tell him all that I know about a character I've written, and his resulting sketch will somehow be steeped with every indicating word, while resembling nothing that I've conjured. By thinking hard about how this artist sees, I learn more about my own seeing. I change the conversation that I am having not just with him, but with myself.
Do you remember those old watercolors? I asked Bill, the other day. The first ones, the watercolors of West Philly? He went out to the shed where some of his work now gets done—on an easel, in a shadow box, in a kiln—and returned with a black portfolio that had been veiled by all these years of dust. He unzipped the thing, and there they were—the first fantasies as I remembered them, the witness of the hands I didn't resist, the names of the colors that sounded to me then like the strains of a subway guitar:
Alizarin crimson.
Paynes gray.
Purple madder.
Manganese blue.
Watercolors into words. Words into life. Life into the love we need each other to express.
___
Beth Kephart is the award-winning author of 22 books and an adjunct teacher at the University of Pennsylvania. Her new book, Wild Blues, came out in June from Caitlyn Dlouhy Books/Atheneum and features six full-color watercolors by her husband, William Sulit. Beth and her husband are the cofounders of Juncture Memoir Workshops, which offers memoir resources and workshops.