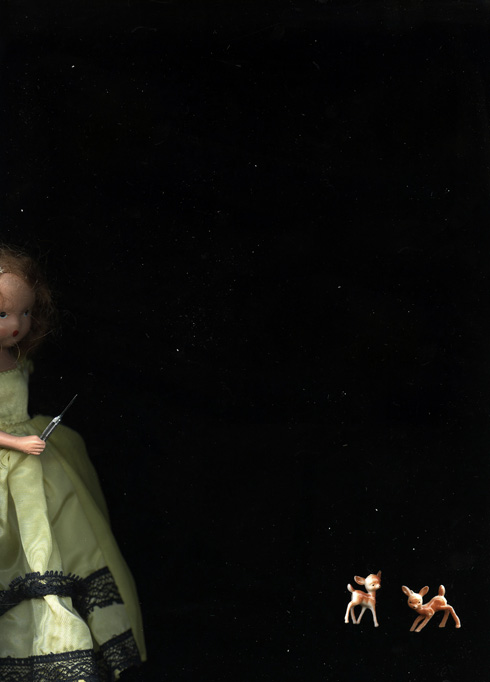 When I discovered creative nonfiction I'd just turned thirty, was self-schooled in queer and activist literatures, newly in love with the woman who is still my spouse, newly sober, even newly tattooed, and recently returned to university. I'd dropped out of pre-journalism school in the late 1970s, in part because no line of study fit me and no course syllabus included the books I was reading. More than one professor told me feminist and lesbian content was not literary and I didn't even know I could major in creative writing, so I left college to work as a community organizer, a waitress, a feminist theater publicist and a temp secretary—and to write.
When I returned to school, in the 1980s heyday of radical theory, the academic mood had changed. I knew I was a writer by then, and I was no longer the only one intent on studying writing in ways that put the desires of the body before convention. I began work on a self-designed BA that merged creative writing, poetics, film studies, a bit of feminist theory–trying to make a place for myself—but I also knew that places shift and lived narrative is never linear. Discovering, in a writing workshop, creative nonfiction was like finding my lost city.
What I've loved, from the start, about CNF has been the ways this genre is creatively weird, much like myself—both misunderstood and claimed by more than one constituency, attentive to form but difficult to classify, with quirky yet intentionally designed exteriors, slippery rules, a mutating understanding of identity, a commitment to getting past the bullshit and making unexpected connections, and a grounding in an unmasked, yet lyric, voice.
Half-a-dozen years later, at the Outwrite LGBT writers' conference, in one of those grand, flocked-wallpaper, old-city hotels, I convened a panel called Creative Nonfiction: A Queer Genre? I was interested by then in the ways the fluidity of gender in the queer community echoed the shifting genre parameters of this new-but-old literary category. I'd just published my first book, a memoir I described—to myself at least—as montage-prose, in the same way I described myself, on that panel, as a boho-femme-lesbian-creative-nonfiction-writer. In both cases I felt pulled to pin down the meaning of formal and corporeal experimentation. What were the concerns and possibilities of queer bodies and female autobiographical texts? I was still exploring my newly found genre city; my urge to define my non-story/non-poems was bound to a desire to name myself.
I know now, near to a quarter century into this work, that even the most familiar homes are partly invisible to their inhabitants, but I'm still interested in the act of naming who and where I am. So as much as I enjoy contemporary skirmishes over truthiness, appropriation, found fragment, and the efficacy of genre categories, I'm frustrated by the endlessly reproducing conference panels and web threads where a few men declare genre definitions passé, creating personality-centric controversies that dominate the conversation and avoid the messy intersections of actuality and text that drew me to nonfiction in the first place.
Why isn't the work of women, especially that of queer women, even the most successful and prolific among us—say Alison Bechdel, Mary Cappello, Michelle Tea—leading us into the central debates of our genre times? Why aren't we arguing about our concerns: the image and sense base (as in Bechdel's graphic memoirs) of body-centered narrative, or the merging of intellectual and narrative discourse (as in Cappello's books), or explicit depiction of women as sexual agents (as in the nonfiction/fiction-blurs of Michelle Tea), or whether (possibly the central question of our writing times) linear narrative is a form of mainstream captivity or an activist embrace of the social possibilities of storytelling.
It's fine to build a literary persona around eschewing category, rejecting definition, and refusing to self-describe. Fine, for some straight, white males who seem to have more categories than they need. As in all forms of privilege, it's the ones who can best afford to purge who create an ethos of absence, rather like the trust fund rebel who decides to give up his weekend Harley for the good of the environment. Those of us who've spent decades attempting to be seen—in literature, in families and communities, in workplaces and academic departments, in American law—might be less inclined to give up the names it took us so long to claim, or to spend our intellectual lives arguing about why we won't.
I do find the current controversies compelling and do read and teach (along with under-recognized books by queers, women, and writers of color) all the works nonfiction writers are fighting about. Yet these debates spin far from what the women in my communities need and want to write and read. I ask us to notice that once again women, especially queer women, are not setting the terms of the discussion.
There is no one queer nonfictional issue to replace the current conversation, and a feminist community revision would require that no one debate is central. Still, what I want most to talk about instead are ways our unconventional genre might claim a tradition of queerness and invite the production of work we haven't seen enough of yet. What if all nonfiction writers imagined a queer aesthetic at the center of our discourse?
By queer aesthetic I mean not just the work of queer authors but all voices and forms that are equally open to pleasure and injury, that are not afraid of the body, that are both sex-positive and self-critical, that are as interested in intersections and critique as they are in the personal politics of memory. Work that does not hold to sentimental definitions of love, marriage, monogamy, childrearing, family, and friendship; work that is as explicit and confessional as it needs to be, withholding only for reasons of flow, impact, and design rather than to uphold community, intellectual, or art-world standards; work that breaks rather than maintains codes, doesn't keep secrets to retain power, is eager to pay debts and reveal the means and archives of its own production.
This work I dream of is Cherrie-Moraga-meets-Eileen-Myles-meets-Audre Lorde meets Rebecca-Brown–meets-Dorothy-Allison-meets-Lois-Weaver-and-Peggy-Shaw-meets-Virgina-Woolf-meets-Maxine-Hong-Kingston-meets-drag-king-cabaret-meets-some-young-voice-we-haven't-heard-yet-meets-Shakespeare's-Sister, and is formed, aural, innovative, gorgeous, gender-aware art—according to both received and self-made models.
This is the work that as a journal editor I don't see enough of, from women or men, trans, queer or straight—I fear because such essays are not often enough written, or perhaps not frequently enough rewarded with publication, kudos, tenure. What I do see is queerish content with too little attention to form, and queerish form with too little attention to content. As an editor I seek out the work that is a synthesis of both—what I taught myself to write first in the damp basement apartments of my youth, making up both body and form, within the tensions of my still-barely-visible city, from the scraps that came to me from bed to mouth to page.
—
Barrie Jean Borich is the author of Body Geographic forthcoming in the University of Nebraska Press American Lives Series, and My Lesbian Husband, winner of the Stonewall Book Award. She was the first nonfiction editor of Water~Stone Review and recently joined the creative writing faculty at DePaul University. Barrie splits her time between Chicago and Minneapolis.
Artwork by Gabrielle Katina