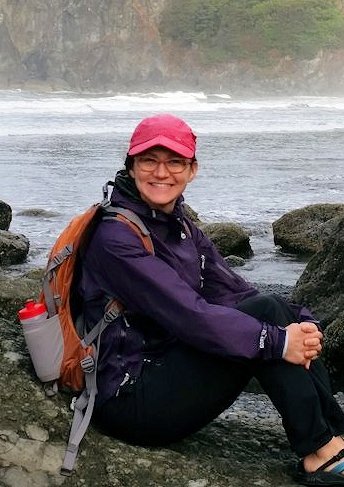 This wasn't a sabbatical, because I'm not a professor. I'm a professional tutor at a university writing center. It was not a vacation because I have only two weeks, not two months, of that. (No, to me, it was certainly not the vacation peers kept calling it—if it were, I'd actually go to Nepal to visit my friend with a Fulbright, or canoe the Susquehanna, or hike the Pacific Crest Trail.) Break isn't even accurate in my mind—it's not a break from work so much as a break from one work for another kind of work, tutoring for drafting. Human resources was baffled by my paperwork to spend July and August out of the office, untethered from my day job.
But I felt spent funneling my creative energy toward lesson plans and promotional materials instead of poetry. My daily journaling on the bus ride to work was unfocused and clipped, revving up just when the ride would end. Even having every other Friday off, with my unconventional schedule of nine nine-hour days, was a tease. I couldn't dig in. I could satisfy some of a writer's tasks on those Fridays: I would read or write or research or submit. I'd finish one task and find the Friday passed. I felt my writing acuity decelerating and feared any inspiration would follow.
For the record, human resources and I have settled on leave without pay.
Call me crazy, as colleagues and friends have: Why not just write my own stuff in the office on the sly and keep the paychecks coming? My reasons are interrelated, and my answers often overlapped: that won't create the environmental change I need to perceive material freshly; that won't create the retreat feeling of having dedicated time and space of mind to be creative; work has annoying things like work around; I need to be somewhere I can emote freely, in the way that immersive writing demands and professional etiquette eschews; I exist beyond this place—my identity is more than a staff member in this office of this department at this institution. Will I always feel compelled to justify wanting to prioritize something personal and creative?
Ideology aside, how did I, a gainfully employed thirty-something, manage to free up two months a year to write? By my calculation, it happened half by persistence and half by preparation. I persisted through tense meetings with my boss who stalled on approval. An administrator without an academic background, she never did embrace the idea of two months off for independent scholarship; I do not know whether she was unsympathetic to my request or felt that I was testing her control of the department. She eventually granted me two weeks of leave without pay, something she'd given herself years ago to enjoy an overseas vacation, and I took my entire annual leave to end up with one month total to write.
I persisted through a departmental restructuring that ousted that boss and introduced a new one, a lifelong professor. My conversation with this boss two years ago was comfortable. "I'd like to have two months' leave to write," I said. "It's similar to sabbatical." I mentioned that the staff in the library have a system for professional leave, and I told her that last year it was deeply disappointing to me not to be supported as a writer pursuing a creative life and to be forced to choose between visiting family and working on professional development with my two weeks' vacation. These points, and the historical dip in writing center usage during summer session, convinced her. She said, "Let's make it happen."
I was prepared for this, so prepared! I had unused material in a notebook from my time in a MFA writing program. I had scheduled dates with a local writer-friend for workshopping. I want to say I'd been saving money all year, but I'd only been deliberately storing away what I'd earned from publications and freelance editing—that is, enough to subsist for about a week. I'm not the kind of person to set aside $100 per paycheck throughout the year, though I am very aware of my expenses (and how predictable they are) and can calculate the amount I have to pay myself during my leave to be about $100 per paycheck. In my inaugural summer of leave, I happened to receive a small payout from my late grandmother's estate. Last year, I learned that a bond bought for me by my late grandfather had matured; the interest was enough to pay the IRS and me while rolling the capital into another investment. This July, I'm prepared to spend my savings. It's taken a fair amount of anxiety and effort to accept as much. I'm prepared to spend it, but I'd prefer to have other recourse. So I've applied for grants. I keep my eyes open for very part-time jobs and freelance work. I looked into cheaper lodging, but the cost of moving makes staying put the cheapest option.
What I'm saying is that a summer leave without pay, for me, is a prolonged endeavor. My agenda has two columns and spans the year. In one column is preparations at my writing-center job: January through March is for discussing exact dates of my leave and smoothing over details with human resources; April through June is for scheduling tasks to straddle the summer and securing COBRA insurance coverage; September is for catch-up. In the other column is preparations made in my home office: December through March is when I query and apply for opportunities; April through June is when I finalize plans, gather materials, and set up working space; September through November is when I begin to revise and submit what I've written in July and August.
Already I can tell that for leave without pay to be sustainable, I will have to be both flexible and structured. Last summer's writing material, financial savings, and mental outlook were last year's. This year, my writing-project ideas are only nascent and require research. I'm waiting on word about grants and jobs with waning hope. If I want to write in the affordable rugged, it'll have to be with my ultralight tent in my brother's backyard. So, flexibility in how my summer surroundings will look, whether the days will include a walk through this park or another, if I'll be factoring in an odd job to cover incidentals, plus minutiae I can't predict.
But structure, too, in setting up a vision, objectives, schedule, and routine. And carrying them through. My experience in an MFA program was a great primer for this kind of project management, and my job at the writing center is a useful exercise in multitasking, keeping deadlines, and extending compassion to writers, including myself. I'm glad I asked for leave, and I'm glad I take it. My writing is worth the awkward conversations, some uncertainty and anxiety, a foregone pricey travel adventure. The creative life is, after all, what I'm always working toward.
__
Amy A. Whitcomb's poetry and prose have recently appeared in The Pinch, Bellingham Review, River Teeth, and High Country News, among other publications. Her work has been honored with a Pushcart Prize nomination and a Bodie McDowell Scholarship from the Outdoor Writers Association of America. She holds master of science and master of fine arts degrees from the University of Idaho and currently works as a writing tutor for university students.