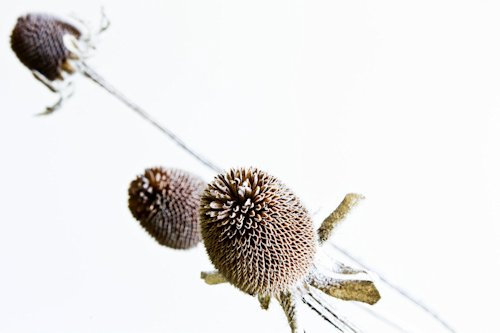 The pickup was more perfect than it should have been. Vintage. Cream yellow. Fat-ish and soft-curved like the ladies who drove it. We met Flanders and Anna in a bar in Monterey in the days when any lesbian seemed rare enough to qualify as a friend. They immediately asked us to dinner the next weekend. My girlfriend and I pulled cautiously alongside them just as they squealed to a stop in front of their stuccoed 50's building. Fishing poles and buckets clacked and settled in the truck's bed. We were all in our 20s. Hot dirt swirled.
They were ruddy and formless, Flanders in a giant Pendleton shirt too hot for the day, Anna in a square, short sleeved dress, a front zip with two low belly flanking pockets, the kind my grandmother used to slip her Benson & Hedges into. They sat in front of a west facing picture window. I could smell the ocean behind them, but not quite see it. Flanders' vast arms stretched the top length of their couch and she'd occasionally hook her beer hand around Anna's neck to reel her close as Anna, staring another direction, faintly twitched her off. She kept talking cars to our lost smiles, and finally chortled "I'm such a dyke," waving an arm in front of her as though swatting flies.
I remember the name "Flanders" struck me, and I realized later it had many rings in it I couldn't name that night: a place, yes, but also — read sidelong — a floundering, too; a flat fish; us sloshing in a bucket. My girlfriend had quit drinking years before, yet it was as though something had dulled in her permanently that I was just beginning to note and possibly pin on that past drinking (or current not drinking). My one piss-tasting beer muscle-melted me quickly and I was soft and starved by the time we stood to eat.
We circled a warped kitchen table bearing a single meat casserole on a pot holder. An empty sauce jar stood vivid on the counter. Someone tore paper towels for napkins. Flanders and Anna didn't care that we were chefs. However creative, our work was hard and hot and slightly unpromising. They were making a harried, early go of things with sturdier phone company jobs. And they must have felt it too, that we probably wouldn't agree on much in the low light of things. Still, we kept scanning each other's eyes for some common glint.
Then as though from nowhere, high-trilling woodwinds bloomed through loud speakers. It was phantasmagoric against the muteness of that room, Donna Summer's rising, rising "Last Dance": I need you, by me, beside me, to guide me…, its dizzying 70's production, its veiled achy gayness and soaring. The room came ablaze with it. And part of me rose and blazed too, bolted up, and clutched something near, swayed to it as air, climbed with it, something heart-close and not quite nameable.
Such unlikely things can spin you against lit moments: a song, a movie, something simple and sentimental that takes you fast careening towards something intricate and true. Whoever our queer ghosts were that night, I leaned into them and whispered to their necks that we'd do better, that we'd feed each other and glimmer. It was all in the lush twinge of that opening, that song that bore us, was in us: hard-ghosted desire, last chances, lifting.
—
Dana Tommasino is the chef/owner of Woodward's Garden Restaurant in San Francisco, where she also curates and hosts readings. She has a master's degree in literature from Mills College. Her work has also appeared in Narrative Magazine. She lives in San Francisco with her family and her crazed Norwich terrier, Chickpea. [Dana Tommasino blogs on the origin of this essay here.]
Photography by Michael McKniff