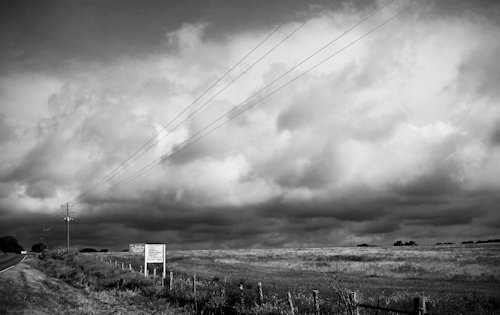 Not that you can't outbid perfect strangers in online wars for your history – that vintage flour sifter, this Lionel train complete with smoke pellets and uncoupling track, the white cotton gloves you've been dreaming for months. My mother had gloves like those, with hand-sewn beads and scalloped edges, and as I leaned against her on the hard church pew I'd close my eyes and trace the route around each intricately bordered finger, the only Sunday softness I can now conjure as I accelerate into the past, Road Runner dust clouds roiling behind me, my father's Route 66 coffee mug in my hand, a catalog gift I gave the year he turned so sad that I schemed aloud, One more time, Dad, we can make the trip again, the whole family, the whole shebang. I'd not said shebang for so many decades, I had to say it again, the whole shebang.
He shook his head as if to say, Let it go, this tenant farmer's son whose life had been a series of letting things go – the rug beater he'd wielded like a bat, the butter churn, the singletree hitch, the corn husking glove with its dangerous hook. And when I refused to take no for an answer (why should we have to take no for an answer?) he wrapped his hands around the mug and leaned toward me. You don't understand, he said. I want it to be then, now, which sent me back to the whole shebang – him and Mom and all six kids in the blue station wagon, the red plaid thermos beside him, one of the boys in his lap, his small hands beneath Dad's pretending to steer us through electronic-free days of luxuriant boredom, past sage and cactus and tumbleweed, the dripping Desert Water Bag strapped to the hood ornament that pointed us home, where we fell into bunk beds and trundles and woke days later, or years, sprawled before the Motorola watching Laura Petrie or Lucy lumber across the screen in a maternity smock – whatever happened to maternity smocks? Mom sewed her own from Butterick patterns, or McCall's. Or Simplicity, the only dress line I could manage in my pimply, gangly years, the transparent tissue spread flat on the carpet, all pure and unsullied hope, until scissors rendered dismembered body parts splayed like a forensic puzzle beneath me, a pins-and-needles plot taking hours to solve. Hours of kneeling in submission until the carpet waffled its design onto my knees. No designs yet on my thighs, those would form in a year or two with my first nylon stockings and the garter belt with its tricky metal grips that dug into skin if you sat too long – beside a boy for instance, in the back seat of a car – and yes I know you can still buy snappy contraptions to coax vintage moments like that into motion, but that's just nostalgia, it costs us nothing and is beside the point.
Of memory, I mean, which takes us for all we're worth. Memory that hand-knotted string of pearls, that black locomotive spewing out smoke clouds, dragging its precious cargo in circles around the living room and over the uncoupling track with its power to disconnect everything we've snapped so carefully together, leaving the rest of our story stranded – the box car, the coal loader, the cartoon-red caboose signaling the end, the open platform asking to please be filled with something, oh please let it fill with something, we could name it the future, that all-thumbs, fumbling-in-the-dark set of hands whose touch we close our eyes to accept.
—
Rebecca McClanahan has published ten books of nonfiction, essays, and poetry, most recently The Tribal Knot: A Memoir of Family, Community, and a Century of Change. Her work has appeared in Best American Essays, Best American Poetry, The Kenyon Review, The Gettysburg Review, The Sun, and numerous anthologies. The recipient of the Wood Prize from Poetry, a Pushcart Prize, the Glasgow Award for nonfiction, and literary fellowships from New York Foundation for the Arts and the North Carolina Arts Council, McClanahan teaches in the MFA programs of Queens University (Charlotte) and Rainier Writing Workshop.
Photography by Michael McKniff