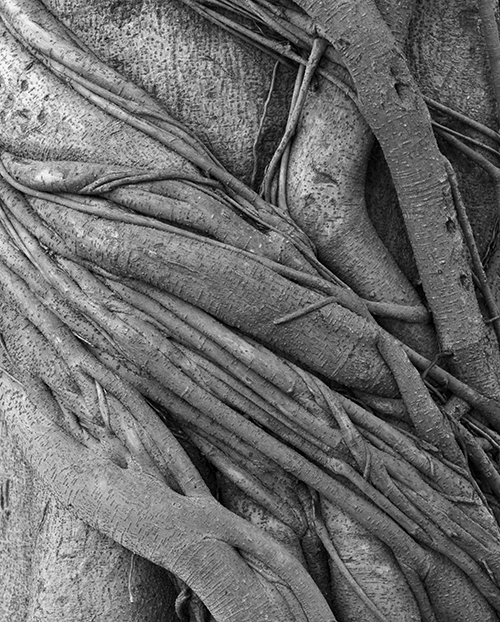 Hanoi drivers in their sunglasses and facemasks ignore ambulances and fire trucks—they won't even move for a man in a faded white tank top, in a wheelchair he ratchets down the turn lane, a boy with shuttered eyes draped across his lap. Kid's got to be at least nine, nothing looks wrong except for that stillness, his baseball cap rocked back, eyes closed, legs over the side of the dull green chair. There's no room on the sidewalk, never is, no sloped exits. A moat of trash. The man's breath explodes as he pushes out of potholes, waits for lights amidst the motorbikes; facing forward, his shoulder-blades droop until they seem to rest upon his ribs.
In the winter with my gloves, coat, and helmet screen no one knows I'm foreign. A cop once pulled me over for the usual bribe, then blanched: when I took off my helmet red hair rained down, my face glowworm white. He tried to wave me on, but I stayed, pretended I didn't know what was happening. What did I do wrong, officer?
I see the pair three times in two months, in Ba Ðình, Ðông Ða – regular neighborhoods. The third time, I'm idling next to him at a stoplight on Kim Mã, masked. His head reaches the chassis of my motorbike. That unconscious boy. In Hanoi, drivers unscrew their side mirrors because you're not responsible for what's behind or beside you.
Confucianism works best in miniature. Once a conversation starts I'm in a family of pronouns and cords pull tight. In the narrow market I buy only from the same four women every day. They ask about my husband, give me the right price, extra lychees too ripe to sell but still a gift. But all these millions in the streets, these strangers outside our alley: people to extort, gossip about, suspect.
If he were begging it'd be different, but he's in the business sector, miles from the mini empires of folk art, dog tags, bottled water. He's going somewhere. Does he recognize me, the other anomaly in the herd? Do we have a relationship?
The cop could have confiscated my bike if he'd asked for my license, since I didn't have one. Instead I read his name tag, smiled, Hello, Mr. Bom, pretended I spoke no Vietnamese. He asked in English, covering his stained teeth with one hand, Where are you from? and How old are you? and Do you like Vietnam?
There are hundreds of us around the wheelchair. I could touch where the white strap of cloth darkens at the man's armpit, could touch the drivers on three sides of me. I watch mufflers to make sure they don't burn my bare calves tipped forward to hold up the bike. The light flashes, horns shriek, we call those scars the Saigon Kiss.
—
Kelly Morse recently returned to Vietnam on a Robert Pinsky Global Poetry Fellowship, which allowed her time to write about her previous experiences there as a university teacher in Hanoi. Her poetry has been published or is forthcoming in Alimentum, Side B Magazine, CAB and elsewhere. She works at the International Writing Program at the University of Iowa, and is currently working on a manuscript that explores linguistic and world-view gaps between Southeast Asian and American cultures via linked non-fiction pieces, poems, and translations.