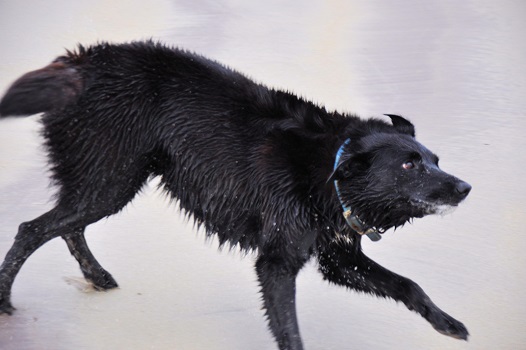 1. He's friendly.
2. He never does that.
3. That's his way of playing.
4. He's still learning.
5. Pookie, come here.
6. He's not so good on recall.
7. Pookie's still learning how to listen, isn't he?
8. Watch out for his leash!
9. Pookie, come! Come, Pookie! Are you listening? If you don't come right now, Pookie, we're going to have to leave the park. Do you want to leave the park, Pookie?
10. I've never seen him do that before.
11. That's his play growl. Pookie loves to play.
12. It's best not to look him in the eye.
13. Pookie, you've got the lady all tangled up in your leash!
14. No jumping, Pookie.
15. Pookie just wants to give kisses, don't you, Pookie?
16. He's a jumper.
17. Did Pookie get mud on the lady with those big muddy paws?
18. Pookie, no!
19. Usually, he likes kids.
20. Pookie, I said no!
—
Lise Funderburg is the author of Pig Candy: Taking My Father South, Taking My Father Home, a contemplation of life, death, race, and barbecue, and the groundbreaking oral history, Black, White, Other: Biracial Americans Talk About Race and Identity, which was recently released in an updated 20th anniversary edition. Her writing has appeared in The New York Times, Chattahoochee Review, Cleaver, National Geographic, TIME, and Prevention. She is a lecturer in creative nonfiction at The University of Pennsylvania and Rutgers University.
Photo by Dinty W. Moore