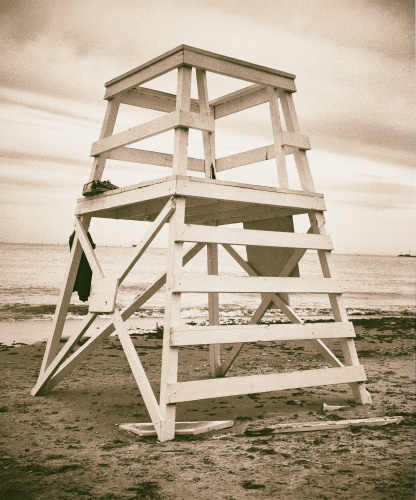 We talked about Miami Beach like it belonged to us, convinced that the tourists who came down to swim in our ocean and dance in our nightclubs were fucking up our city. We were seventeen, eighteen, nineteen-year-old hoodlums, our hair in cornrows, too-tight ponytails, too much hairspray, dark brown lip liner, noses and belly buttons pierced, door-knocker earrings, jailhouse ankle tattoos. We didn't have time for boys from Hollywood or North Miami, busters who drove their hoopties with the windows down because they didn't have A/C, calling out to us trying to get phone numbers as we crossed Washington Avenue or Lincoln Road, our chancletas slapping the sidewalk.
What did they know about surfing during hurricane winds, fucking on lifeguard stands, breathing under water? What did they know about millions of stray cats pissing in the sand dunes, entire flocks of rogue seagulls dropping shit torpedoes, about refugees and kilos of cocaine and bodies washing up on our shores?
We were the ones who knew what it meant to belong here, to be made whole during full moon drum circles, dancing, drinking, smoking it up with our homeboys. We knew what it meant to bloody our knuckles here, to break teeth here, to live and breathe these streets day in, day out, the glow of the neon hotel signs on the waterfront, the salt and sweat of this beach city.
*
One night we parked Brown's Mustang behind the skating rink on Collins, hoofed it to the beach. We took our bottles of Olde English and Mad Dog 20/20, the six of us passing a blunt and listening to 2Pac's "Hit Em Up" blaring from somebody's radio, and every time they sang, "Grab your Glocks when you see 2Pac," the boys grabbed their dicks, and we all laughed our asses off. Brown danced, stripping off his clothes while we cheered him on, me and A.J. keeling over, slapping our knees. Flaca, China, and Cisco climbed to the top of the lifeguard stand, singing, "Go Brown! Go Brown!" When he was down to just boxers, Brown gave up, and we booed him, threw our balled-up socks and sneakers at him.
Me and A.J. were out behind the lifeguard stand, sand between our toes, feeling for each other in the dark. We ran around laughing and laughing, and I took his hand, danced circles around him in slow motion.
I don't remember when A.J. first told me he loved me, or even if he told me, but I knew. I felt it every time he came around, every time our thighs touched while sitting together on China's couch, or when the six of us had to squeeze into Brown's Mustang and I sat sideways on his lap, my lip brushing against his ear, his arms around my waist. Or when we stayed up all night talking even though he had to get up early for school the next morning—something I didn't have to worry about since I was a high school dropout. Or on nights when the liquor and the weed made my head spin, the heat and the high coming down on me all at once, and only A.J. around to keep me from falling.
Down by the shore, Brown was so fucked up he dropped to his knees, then lay down sideways on the sand. Later, we would all carry him back to his car. Flaca would drive us to her place a few blocks away. We would all stagger up the stairs to her little studio, put Brown to sleep in the bathtub, and smoke Newports on the balcony. He would wake up with the munchies an hour later. "You got any cheese?" he'd call out from the bathroom. Cisco would grab an entire pack of Kraft Singles from Flaca's fridge, and the two of us would toss them into the tub, slice by slice, while Brown tried to catch them in his mouth.
But before all that, the six of us dancing and running around on the beach, China chugging down Mad Dog, Flaca and Cisco kissing on the steps of the lifeguard stand, and A.J. looking at me under the moonlight, a cloud of smoke all around us, I wrapped my arms around him and said, "Don't let me go."
We were laughing, hitting the blunt.
We were the faraway waves breaking, the music and the ocean and the heat rising rising rising, like a fever.
We were bodies made of smoke and water.
__
Jaquira Díaz is the recipient of a Pushcart Prize and fellowships from the Wisconsin Institute for Creative Writing, The MacDowell Colony, the Ragdale Foundation, and the Virginia Center for the Creative Arts. Her work appears in The Guardian, The Sun, Kenyon Review, and elsewhere, and is forthcoming in Ninth Letter and The Best American Essays 2016. Starting this fall, she will be the 2016-18 Kenyon Review Fellow in Prose.
Photo by Frank Dina