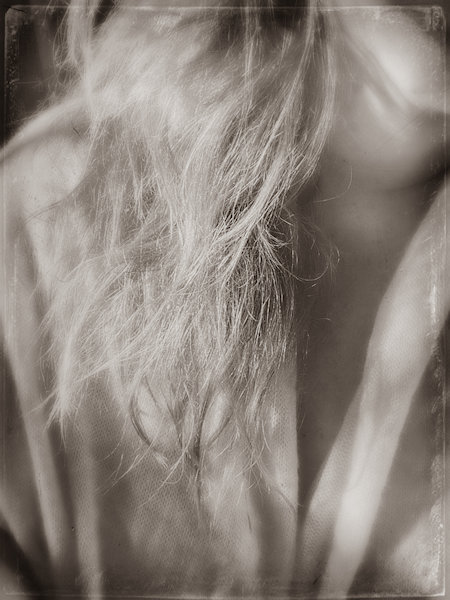 1.
I tell you I'm getting a tattoo to cover my scars. Some kind of tree, perhaps, the branches reaching across one scar, the roots wrapped around another. A living thing. An ancient bristlecone, a saguaro, a juniper, purple with berries. "You're allergic to juniper," you say, and I nod. I do not ask, "But isn't that the point?" And it isn't true—I don't really want the tattoo. I trace the scars with a fingertip, the thin, hard edge remembering the blade. The evidence of fracture, wound, fragility. The fine white light, the pucker of skin, the pink star where the bone broke free.
2.
I am crying again, and you tell me you're worried about me, that I carry too much grief. "You let it accumulate," you say, "instead of letting it go." Sometimes I think about this, and I am angry. Other times, I wonder if you're right. I know with each new loss, there's a heaviness in me, dressed in too many layers, wrong for the weather. You ask, "But what will happen to you as the years wear on? There's nothing but loss ahead." I do not say holding onto these losses scares me less than trying to let them go. I do not say the weight of them prevents me from floating away and disappearing. I do not say I am more alive—with pain yes, but alive—every time someone else I love has died.
3.
Sometimes when we're making love, I can't help but think about our skeletons, foundations beneath flesh: the jutted pelvis, iliac crest, sculpted like a seashell. Your now-fleshy hands grasp the mantle of my hips— the skeletons, fibrous and calcified, will soon enough be stripped clean without the canvas of skin, red strip of muscle, the jellied yellow tissue. These woven bones, at last, shining naked. The hips, ribs, and skull—the inside finally out. The eye sockets emptied—no longer a lookout. Like the last page of a book, holding the air of already having seen. Emptied of recognition—emptied of this moment, this brief intermission of tension and delight, the silver orgasmic quiver of the almost already dead.
4.
My mother once told me her pain felt better only when she cried out—her groaning swelled to howl as the cancer ate away her vertebrae. When the pitch of her pain startled me, my own body betrayed me, too—I had to stifle a laugh. I understand the element of surprise can shake us into tears or to laughter, but still—there is no way not to burn with shame.
5.
When I cry out in pain in the small hours following the accident, you do not laugh. But you want me to stop. "I'm afraid the neighbors will think I'm beating you." That makes me laugh, between my cries, even if it isn't funny. My mother was right—the screaming gives the body its distraction. And also its metaphors: I tell you the pain is a shooting star—a hot, white, bolt ripping through skin and bone. It is the inside of a creature's jaw, the crunch of locked fangs. You beg me to take the pain pills, but I refuse the dull throb, wanting instead the sharp truth of it—the involuntary breathless howl, present and primal—the laughter, orgasm, tears.
__
Suzanne Roberts is the author of the award-winning travel essay collection Bad Tourist: Misadventures in Love and Travel and the award-winning memoir Almost Somewhere: Twenty-Eight Days on the John Muir Trail, as well as four books of poems. Her collection of lyrical essays, Animal Bodies: On Death, Desire, and Other Difficulties is forthcoming from the University of Nebraska Press in March 2022. Named "The Next Great Travel Writer" by National Geographic's Traveler, Suzanne's work has been listed as notable in Best American Essays and included in The Best Women's Travel Writing. Her work has appeared in The New York Times, CNN, Creative Nonfiction, Brevity, and elsewhere. She holds a doctorate in literature and the environment from the University of Nevada-Reno and lives in South Lake Tahoe, California. For more information, visit her website: www.suzanneroberts.net