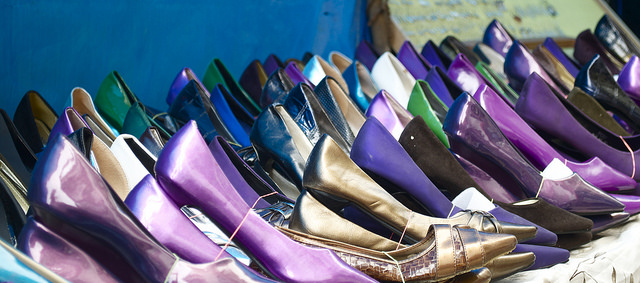 If a DJ doesn't like you, he plays "Superfreak" or "Bye Bye Miss American Pie." One's an insult, the other just takes forever. Eight-and-a-half minutes of rock-and-roll tragedy before I was born. Whatever. It's playing when I walk into the club, and it's still playing when I hit the floor, ready to go.
I feel a little like Superman. Step into a dressing room not much bigger than a phone booth, whip off my glasses and my shirt, and suddenly I have all the power in the room.
Guys in suits get off work and see me before they see their wives. They sit in upholstered wing chairs and order steaks and bottles of Black Label while I work the pink-lit, more-flattering side of the room. I playfully flip over ties, checking labels to see who's got cash and who's cruising on his buddy's dollar. The guy who created the Bloomin' Onion tells me, "They used to be special, you had to hand-cut them. Now there's a tool and anyone can do it in five seconds. No skill." I commiserate and take his money. I tell a Publix executive, "Yeah, I shop there, but everyone thinks you're racist." I get every American dollar the Canadian Paralympic Hockey team is carrying. They send their manager down the stairs to the ATM. Not bad for a twelfth-grader.
I drink a lot of Champale, which is a six-dollar Sprite with a cherry. My picture is in the row of Polaroids on the Do Not Serve board in the back hallway. By midnight I'm starving, and the bartender sends extra cherries. Cup after cup of soda to the two bites of solid food at the bottom; at least you can pee out liquid calories, and it's a good reason to leave a table that isn't paying. Just don't make eye contact on the way back out of the Ladies'.
In my car driving home, I listen to what my boyfriends like: Robert Plant and Led Zeppelin and The Cure and Depeche Mode and the Violent Femmes. All too depressing or not enough beat to dance to. On stage I ask for Roxette, Madonna, Phil Collins, same as they play at prom that year.
We walk into the banquet hall under an arch of silver balloons. More balloons aren't disguising the beige walls and acoustic-tile ceiling. I have contact lenses, a date because his girlfriend dumped him, and a dress from House of Mom. She has made me a blue sequin tube at my request, the color of airport landing lights. Encased in it, I am a sparkling sausage. I wish I'd worn my white debutante dress again. I wish I could tell my mother why babysitting money isn't enough, how paying for my own car repairs might not be the responsible parenting choice it looks like, how only housekeepers take the bus.
The DJ plays "American Pie," and I laugh but I can't say why. My date doesn't want to dance, because his ex-girlfriend is here with someone else. I don't want to dance, because I don't know how to dance without looking like a stripper.
—
Allison Williams is an ex-academic and current circus aerialist. She has written about race, culture and comedy for National Public Radio, Canadian Broadcasting Corporation, The New York Times, The Christian Science Monitor and Travelers' Tales. Her fiction has appeared in Crossed Genres, Smokelong Quarterly and Deep South. She is a two-time winner of The Moth StorySLAM. Allison blogs at I Do Words. Home base is currently Dubai, where "The Pork Shop" is a separate, dimly-lit room at the back of the supermarket. It's like buying meat porn.