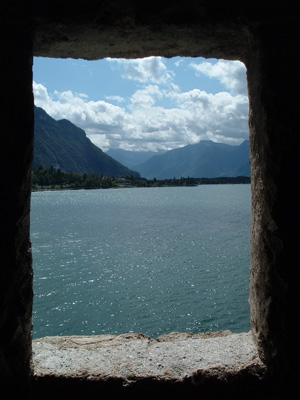 Once, walking, I found on the sand not a butterflied clam but a small tooth.
We have been coming here so long that we can point out where the road used to end, though we differ: some say the fish hut, others the rental shack. Pretty soon there will be a baby, eating great fistfuls of sand.
Nag's Head, to the south, is where the pirates hobbled a horse, hung a lantern from its neck and walked the shore: those at sea steered near, mistaking the bob of light for a safely harbored ship. I have always admired the ingenuity of criminals.
Everyone on this beach is successful in their real lives, you can tell: they wear sunblock, they are early-morning runners.
This is the first year in three that we have not begun our vacation with a funeral: first my father's mother. Then his father. This year, the only stop on the way down is at Hardee's, for cinnamon-raisin biscuits.
They are burning the grass on the mainland, so in the morning smoke hangs. I walk to the beach, where it smells only of salt, and see the jellyfish have washed up and died during the night.
This year, there is a Jack Russell that I watch—he runs into the surf after his owner, waves nearly knocking him sideways. But as soon as she dives under and he realizes where he stands, he is afraid, runs back out.
I live for the skittle of lizard under the boardwalk.
One night at twelve-thirty, I sat out on the back steps and watched the shadows cross the dunes ten feet in front of my knees: coyotes. For ten minutes, my problems were not my own.
Once we went to the Poconos, but there was no ocean, only a river, bright and lazy. In the evenings we would close the cupboards tightly and in the morning find them wide open. My cousins thought the place haunted. I realize now it was trying to endear itself to us, get us to stay. Of course we could not. We are not those type of people.
This morning, on the beach: a star of orange peel. Less peel than explosion from the flesh. Campbell McGrath, are you listening?
There are twenty of us. Every year the same two houses, the same game of catch-up over gin. Right now, all news is good: an acceptance to Northeastern, a promotion, a first job with Boeing. Soon everything will change: second wives, retirement, health threats someone will finally not come back from. There is smoke in the wind. But now: perfect.
The Atlantic Ocean must be the least forgiving thing on the planet, which is of course why we come back every year.
—
Christina Olson's first book of poems, Before I Came Home Naked, won the 2007 Spire Press full-length book award and is forthcoming. Other poetry and prose has appeared in magazines including Mid-American Review, Puerto del Sol,Hayden's Ferry Review, and Black Warrior Review. At the present time, she is a visiting professor of writing at Grand Valley State University in Michigan.
photo by Sarah Truckey