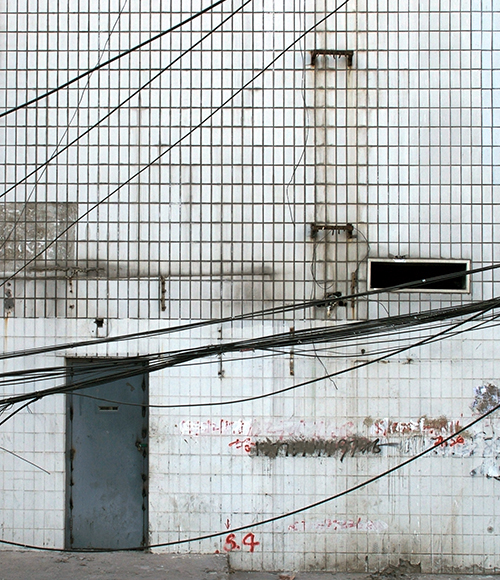 After spending most of the day on a plane, too young to drink miniature bottles of liquor but too old not to resent it, crammed between my amma and a man in baggy churidar, there it was, not quite as I remembered but intimately familiar nonetheless: Mumbai airport. Redolent with humid, fan-beaten air; dark arms in cardboard sign queues; tiffin-wallahs jockeying for prime real estate; sheer perplexity of bodies in that vast, crumbling space the set of a science fiction film cast inside a Victorian ruin.
Somehow we always arrived at night.
Scanning the crowd, with vigilant attention on bags and wallets. Ol ho naa ho blaring on someone's portable radio—"Tomorrow May Never Come." Porters with suitcases on their heads.
Magnetic blood. I saw him first. My appa's younger brother, though it had been a decade since we had last met. We disgorged to him from the stream of people.
Uncle Sridhar with cousin Gopal, hairier now: pencil thin moustache, sideburns glinting. We roared away in a taxi stuffed with bags and family, past hallucinatory figments: packs of dogs, exposed electric wires suddenly sparking, massive billboards for concrete manufacturers.
We finally arrived. Climbed steep stairs to sleep. Eight of us in a two-bedroom flat. I opted for the rooftop.
Three weeks passed.
Gopal had illegally downloaded and burned the latest bhangra hits, blasting them from the back of his scooter. Supposed to head home but instead pull up in front of the Leela. One of the fanciest hotels in Mumbai.
"Come on," he goaded, "let's ask about a room."
We were greeted in the pillared lobby by a thin North Indian woman not much older than we are with a short bob and red lipstick. Her eyelashes penciled in.
"My cousin's from New York City. He wants premier city view room. Let's see it."
In the elevator, Gopal went through details as if marking down items on a checklist. "You have king-bed, yes? And plasma screen TV?"
Suddenly the elevator juddered, muzak stopping simultaneously with the lights shutting off.
"Sorry, just a momentary interruption. Thanks for your patience."
Shuffled sounds. Sharp breaths. "Kitna Pasia?" a whisper. "How much?"
Then the lights back up. Gopal in one corner, looking at his watch. The woman in another. None of us meeting eyes.
We toured the room. Gopal stretched out full length on the bed. The woman smoothened her salwar in the hallway, then accompanied us back to the lobby, smiling. She gave me her card. Bijli Singh.
Gopal and I shared a Kingfisher in the hotel bar. Nearly ten American dollars a draft, but I didn't want to leave having conspicuously wasted their time.
Gopal seemed agitated. Or excited. "She liked you, anna." He shoved peanuts in his mouth.
"Not my type."
"She'd be very Western in her tastes, anna. Working here with such sahibs."
"Let's go, Gopal. We're late already." I pushed away the empty pilsner glass.
Dusk rising the dust and muting the garish colors in front of the hotel. My cousin trying to kick start his scooter.
"Awesome, right, anna?"
"How?"
"When the lights went out I mean." It didn't start. He pumped his leg again. "Nothing wrong with a little eve-teasing. She liked it. Trust me. Gave you her number, didn't she?" He turned, grinning from an oversize helmet. I felt the sharp corners of the card in my shirt pocket and felt like cuffing him.
"Let's go, Gopal." He finally started the bike, and we were off. Anonymous and en masse. A blind boy, a man without legs, a woman suckling her baby against the base of a betel nut palm. Eventually we turned onto Marine Drive and past the Queen's Necklace, the promenade stretching from the governor's mansion to Nariman Point where skyscrapers jutted. Body upon body upon body. Ours among them, specks in a whirling galaxy.
The next day, we were back at the airport, herded by relatives and laden with presents. Gopal had decided not to make the trip.
On the plane ride home, my forehead pressed to the glass, I decided that Bijli and I probably had gotten together during my trip to India. Yes, when asked about winter vacation she would become central to my tale. Her card as evidence. Conjure nights spent in an unoccupied room at the Leela, eating room service and watching Mumbai flicker through the picture window. Her presence a silken pressure against my chest.
—
Ravi Shankar is founding editor and Executive Director of Drunken Boat, and author, editor or publisher of eight books/chapbooks of poetry, including the 2010 National Poetry Review Prize winner, Deepening Groove, and the 2005 Finalist for the Connecticut Book Awards, Instrumentality. Along with Tina Chang and Nathalie Handal, he co-edited W.W. Norton's Language for a New Century: Contemporary Poetry from Asia, the Middle East & Beyond, called "a beautiful achievement for world literature" by Nobel Laureate Nadine Gordimer.  He has won a Pushcart Prize, appeared in the New York Times and on the BBC and performed his work around the world. He is currently Chairman of the Connecticut Young Writers Trust, on the faculty of the first international MFA Program at City University of Hong Kong and an Associate Professor of English at CCSU.