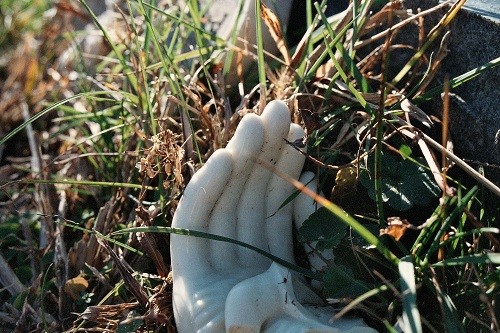 On the day we buried great-grandmother Lilah Gray in Pine Bluff, my grandfather, Roy, stood in front of her casket and smiled. "Well, the old black hen done gone on in." As a second-grader, I didn't understand.

Long blind from glaucoma, Mama Lilah would sit up in her bed when us smaller kids visited her house near the bayou. With long gray hair dangling down her back, she'd rubbed her hands on our faces to guess who we were. "This is Elizabeth's boy, ain't it?" Old folks smelled a certain way.

Three years later my sister and I were leaving the Mississippi Delta, riding back to St. Louis after a summer's stay. Mama stopped the car in Pine Bluff so we could see Aunt Toad, my grandmother's sister. In her day, Aunt Toad liked sending children into the house "to get me a cooooool drink of water," but lately lung cancer had set in.

"I ain't gon' ever see y'all no more !" she screamed as we made our way to the car.

"Yes, you will," Mama said, touching her smoke-stained fingertips. "We'll be back to see you in the spring."

That fall Aunt Toad lay in a casket with hair stacked too big. She wouldn't have wanted people to see her hair like that.

I missed a lot of funerals over the years – Aunt Beulah, Mama's favorite aunt from Bastrop, Louisiana, my cousin Roxie, and Mama Lately, our maternal great-grandmother. At one point our family had six generations in the land of the living. The oldest was ninety-nine and the youngest just under a year. Combine my first and second cousins and there were ninety of us. Such a large number is beautiful at the family reunion, but it also means attending a lot of funerals.

The last time I saw my own father alive he was wearing a cowboy hat and boots, digging his own father's grave.

Four years later, a stranger found my father's body frozen to death on a vacant lot in Peoria, on New Year's Eve. At the funeral a few days later, in Dad's native Louisiana, his mother flailed her arms and screamed "He's gone! He's gone. He's gone. I can't believe he's gone." An ambulance crew waited outside the church house, just in case. I was sitting right next to her. A few minutes later, she nodded off.

When the undertakers opened the light blue casket for the viewing, I popped on my sunglasses and exited the church.

Years later, Mama and I visited Aunt Earselean, one of her half-sisters. The full-faced woman who took cruises, drank Scotch, and laughed hard had been replaced by a feeble woman in a wheelchair, arrested by dementia. In a moment of lucidity she looked up at me and said, "There goes my favorite nephew." My heart leapt.

A few months later when she died, Granddaddy and a whole crew from Arkansas rode up to St. Louis for the memorial, in a funeral parlor. No choirs. No preachers. One brief prayer.

"She didn't go to church," Mama said, "so there isn't any point in putting her in one while she's dead."

Two days before my ninety-four-year-old grandfather Roy died, I dreamt I was standing on the dirt road in Grady, Arkansas, and heard a loud voice say, "The trains will no longer ride through Grady."

In that town, freight trains would routinely stop on the railroad tracks, blocking the kids from getting to their school buses in the morning or folks from getting to their jobs. One time my grandfather got so irate he climbed up on the train and waved a revolver at the conductor. "You've got five minutes to move this goddamned train out of the way."

He did.

On the day we buried my grandfather, he didn't look like himself in that shiny mahogany casket.

On that day, I finally understood why people needed to gaze at corpses. It was proof the old man had done gone on in.

—

Samuel Autman teaches creative writing and journalism at DePauw University in Greencastle, Indiana. His essay "A Dash of Pepper in the Snow" was a prizewinner for the Tara L. Masih Intercultural Essay Prize and was published in The Chalk Circle: Prizewinning Intercultural Essays.  His essays have also appeared in Postcard Memoirs, Under the Gum Tree, The Huffington Post and The Good Men Project. He has worked as an editorial consultant on book proposals and is currently writing Sanctified: A Memoir. The project is represented by the David Black Literary Agency of New York City. For more information go to www.samuelautman.com

Photo by Maria Romasco-Moore