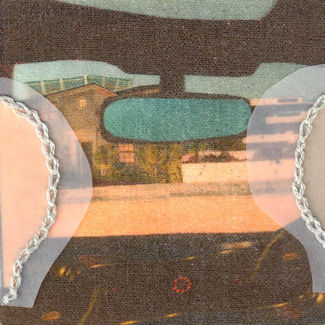 My mother worries about my soul. She tells me so at her kitchen table, 6 a.m. We're making nut-roll, even though it's not a holiday, nothing to celebrate.
My mother believes bread rises only in the morning. I'm not good with mornings. Last night I stayed up late, reading, worrying.
"Ruining your eyes," my mother says.
Drinking.
I'm hung over.
My mother is dying.
Everything is urgent now.
My mother wants me to know things, like where she keeps the silver, how to shut off the water, how to make a decent nut-roll.
"Who will teach you when I'm dead?" she says, and pounds the dough so hard it makes death seem impossible.
This morning she wants to talk religion, something I've refused to do for years. She brushes flour off her velour pantsuit. She punches the dough like it's a face, mine.
She says, "You can't believe in nothing."
She says, "If you don't believe in anything, what is there?"
She says, "You idiot."
I clutch the coffee she's made, instant, too much cream and sugar, the way my father liked it, not me. He's dead five years. I sit in his chair. The mug I'm holding was his, Batman, the image faded from my father's hands. My mother's mug, full of lemon tea, is Robin, faded to a mask and cape and the word "Holy!"
My mother would kiss my father's bald head.
She'd say, "The dynamic duo."
"First one goes, then the other," the funeral director said.
*
My dying mother wants to talk about God and faith over a pastry I'll never master no matter how important it is for her to hand this down.
A good daughter would say the words.
A good daughter would ease things.
"It's private," I say about my beliefs.
My mother says, "I changed your diapers and you talk about private."
She works the rolling pin like a threat. It was my grandmother's, then my mother's. Now it will come to me. The wood is worn to a honeyed shine, maple, like the trees my mother and I planted in the yard when I was a child.
My mother rolls the dough in a circle thin enough to see through, a lens to another dimension where she's still young, a Kool cigarette between her pink-tipped fingers, smoke rings rising from her lips, messages to decode.
The skin on my mother's hands is thin enough to see through, a lens to bone.
"I can't," I say about rolling dough that thin.
"Patience, jackass, patience," my mother says.
I'm trying.
*
"You'll go to hell," she says. "You know that."
On the table rests a blue prayer book, a tiny paperback my father carried in his pocket when he was sick, Daily Devotions, a Jesus fish in a circle on the cover. The fish is drawn in one line—no beginning, no end.
*
My mother doles out ground nuts and sugar, cinnamon and warm milk, four spoonfuls to make the sign of the cross. I spread the mixture evenly, as thin as the dough, thinner, out to the edges because it's expensive and has to last.
Once at a wedding, my mother brought nut-roll for the cookie table. Someone else brought nut-roll too, but it wasn't pretty, the layers and dough too thick.
"What asshole brings a nut-roll like that?" my mother said, then put her perfect nut-rolls on a tray. She carried them table to table to be sure people knew which ones were hers.
*
All my life, I've loved my mother.
All my life, I've disappointed her.
I'm not the daughter I want to be. I'm not the daughter my mother wants.
"You have to believe or you'll burn," my mother is saying.
The nut-roll spreads between us, a black hole, a universe pocked with stars.
*
Once I got stoned with a scientist who tried to explain Einstein's theory of time and space. He held up a Taco Bell burrito he'd split in two. He showed me the layers. He said time was like that, a tortilla folded in on itself, now and not now, forever, amen.
"Time is not a clock and we are not second hands," he said, and swallowed the burrito down.
*
"It's all a horrible day-mare," Robin said to Batman.
*
It's been 13 years since my mother died.
She said, "You have to try to believe."
She said, "Do it for me."
She said, "Where will you be when I'm gone?"
__
Lori Jakiela is the author of three memoirs, most recently Belief Is Its Own Kind of Truth, Maybe, which received Stanford University's Saroyan International Prize for Nonfiction and was named one of Huffington Post's 20 not-to-miss nonfiction books of 2015. Her work has been published in The New York Times, The Washington Post, The Pittsburgh Post-Gazette, The Rumpus, Vol. 1 Brooklyn and more. She lives outside of Pittsburgh with her husband, the writer Dave Newman, and their children. She directs the Creative and Professional Writing program at The University of Pittsburgh-Greensburg.
Artwork by Allison Dalton