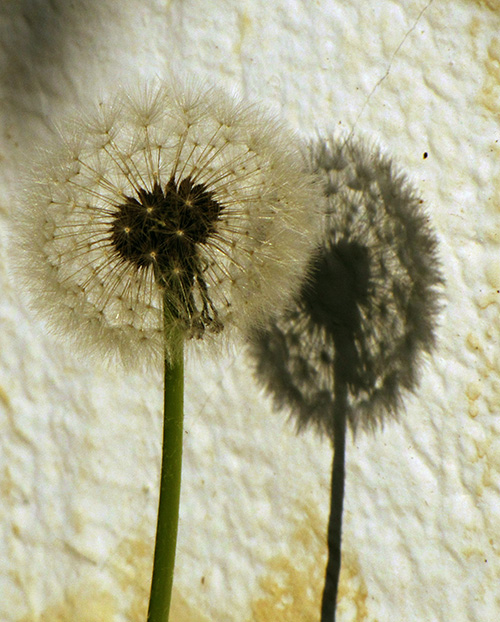 It's not that I thought She might really be there, behind the tilting tombstone: Emily Dickinson December 10, 1830 Called Back May 15, 1886, not that I thought touching the stone might make up for something missing in me, some lack I might get back through this pilgrimage—ok, I'm lying—I wanted to touch her, wanted to hack into her voice, fall into her god rhymes, wanted to feel her sherry eyes on me like lakes of compassion—
But, suddenly, there she is, hovering, like some ghost from A Christmas Carol.
I understand, she says, looking right at me, you're the age I was when—
I know, I say, interrupting her, when you died—
I didn't die, didn't you read the gravestone, I was called back—
Pause. She is already disgusted with me.
I see what you want, she says, and I don't approve. You want to highjack poems from me, from that place where I live—
No, really, I say, I just want to talk about—your garden, I lie, just to keep her talking, even though I'm starting to think that her voice sounds an awful lot like mine.
You just want the secret, right? she asks, stooping to smell a wild rose. You think there's a secret.

Can we stop talking about me, I ask, and can you start sounding like yourself?
She looks away.
After great pain, she says, a formal feeling comes.
What about the garden? I ask, too quickly, wanting her to stick to something specific, something I can understand—
I'm not sure, I say, that I get what a formal feeling is—

Some keep the Sabbath—going to church—I keep it—staying at home—she says, offering me two roses.

So—are you saying you'd rather be in a garden than in church? Is that where you find God? Is that where poetry is, too?
She pulls a weed from the side of her grave.
The Dandelion's pallid Tube, she says, Astonishes the Grass.
She blows the seeds in my direction.  So—should we stop killing dandelions, I ask? Is that where poetry lives? In the weeds?
She's watching a bee sipping a foxglove. I taste a liquor never brewed, she says.
I try once more, and this time I'm honest: Can we talk about poetry? How did you find your voice, how do poems come to you?
The Mushroom is the elf of plants, she says, starting to shrink a bit, and then fade almost to smoke. I'll dwell in Calyx—Gray—
Wait, I yell, don't leave! We haven't talked about poetry yet—
Oh yes, yes we have, she says, her voice wilting slightly.
We hated Death and hated Life, and nowhere was to go—
Then she's gone, leaving me alone with a melancholy grave. A rhymeless voice. Dandelion seeds in my hair.
—
Sheryl St. Germain has published 10 books of poetry and nonfiction, the latest of which is Navigating Disaster: Sixteen Essays of Love and a Poem of Despair. She directs the MFA in Creative Writing Program at Chatham University in Pittsburgh. (Ms. St. Germain discusses the origin of this essay and  the "truth" of an imagined moment on the Brevity blog.)