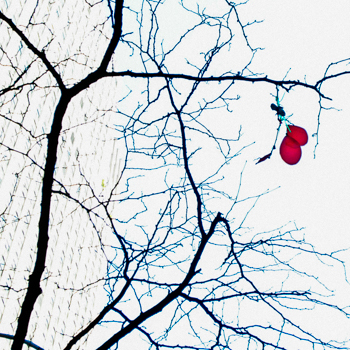 What is already history:
Waking in the dark.
Dressing in the dark.
Reviewing the checklist of things to remember.
Driving on icy roads. Unloading the luggage, kissing goodbye.
Showing identification, checking bags.
Removing coat, removing shoes, watch, jewelry.
Aimless browsing in airport shops, hoping a snack might look appealing at 6 a.m. or a magazine catch the eye.
Waiting, hours of waiting.
The boarding call, jockeying for position.
Now we are at a standstill, stalled in the hallway that connects the terminal with the accordion-sleeve that, in turn, connects to the plane. We can almost, but not quite, see the door opening to the cabin. Passengers make small talk, adjust carry-on bags, fold baby strollers, double-check boarding passes.
A party of five is vocal and animated. Four adults, one child. Parents and grandparents, three generations. The child's every need is noticed and addressed. Lollipop, book, toy. Remove gloves, put on gloves. Make her laugh, tie her shoe. In another country, the child would be a princess. She would have servants to wipe candy from her delicate cheek, to carefully clean the stickiness from between her fingers. She barely blinks; a new need is diagnosed and fulfilled.
When the adults aren't looking—she recognizes this with finely honed instinct—she quickly, quietly, secretly, licks the wall. It must be alive with germs. It must taste heavenly, as forbidden things do.
I am the only one who witnesses. We make eye contact. She smiles. She has found a way to have a life.
__
Donna Steiner's essays and poetry have been published in literary journals including Fourth Genre, The Bellingham Review, The Sun, Full Grown People and The Manifest Station. She teaches literary citizenship and creative writing at the State University of New York in Oswego. A chapbook of five essays, Elements, was released by Sweet Publications.
Photo by Heather Kresge