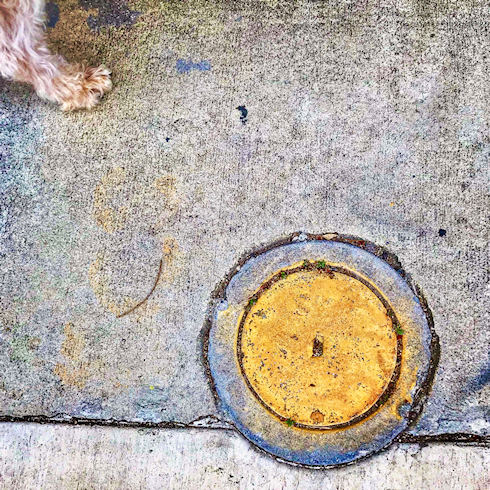 It is coming up on five p.m. when you push your way out of the crowded bus and onto the street that will take you to your child's kindergarten. You must walk the final few hundred yards, a trip of less than ten minutes for a woman of good health in her mid-thirties. As you wait to cross the street, you see a medium-sized truck approaching the intersection and that voice, or is it a voice, is it rather a picture, or perhaps a hollow pressure in your belly that says
what if
what if
what
if
what if now
what
if
I didn't make it to the pick-up time.
In a few seconds you direct the film: the worried caregivers checking the clock, getting more annoyed by the minute; the call to a cell phone lying broken on the street, then the call to your husband, who is working in another city; the boy too little to understand why his mother hasn't come; eventually when it is all sorted out, more phone calls, to family members in other countries, to colleagues whose shock registers more inconvenience than loss. You play the filmstrip and press your feet down into the sidewalk, press them down hard on the right side of the curb, and wait for the truck to come to a full stop and your light to turn green. As you walk toward the kindergarten every step feels like moving a boulder. You notice the docile grey houses lined up in a row, and a used menstrual pad lying on the ground next to a bus stop on another line. Bikes zoom past you from behind, ringing to remind you that you are stepping too close to their lane.
You remember living in a bigger city, waiting for the subway behind the six-inch yellow line that told you where it was safe to wait, thinking how easy it would be for someone in the crowd to place both hands on your back in the last moment. You stepped back, every time, distance enough for many yellow lines, and you watched the backs of other people who were not afraid or did not make the same calculations, and then you thought how easy it would be to fall against them at the last moment, like a domino. You told no one these thoughts, even though they floated up every time you waited for the subway. You just kept moving back and back until your back was almost touching the tiled wall of the subway station, and that was barely back enough.
Now as you walk to the kindergarten staying close to the hedge and out of the path of the bikes, you think about how you cannot tell anyone, as usual, you cannot tell a soul. There is no hour in your life when you are truly alone, no single span of sixty minutes that is not in service of family or workplace or of the rituals needed to keep your body moving through its stations of duty. But none of the people who crowd your days would know what a triumph it is to open the doors to the kindergarten yard on time that afternoon, to search the shady playground for your son, to ask the caregiver how his day was and what did he eat and did he play nice today.
___
Irina Dumitrescu lives in Bonn, Germany, where she teaches medieval literature. Her essays have appeared in Longreads, The Southwest Review, Scena9, The Yale Review, Literary Hub, Petits Propos Culinaires, Serious Eats, and the Marginalia Review of Books, and been reprinted in Best American Essays 2016, Best Food Writing 2017, Wine Reads: A Literary Anthology of Wine Writing, and Longreads. You can find more of her writing at irinadumitrescu.com.