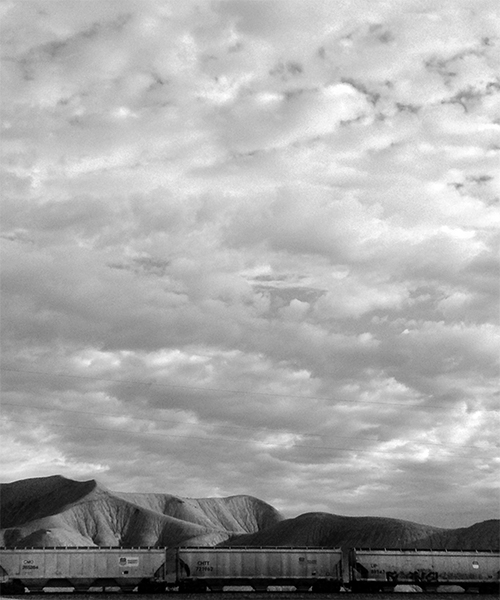 My three brothers, two sisters, and I carried our mother's coffin into the church on a Monday in April and out to the flower-filled hearse on the Tuesday. We carried her on our shoulders, raised her up. People said they'd never seen the like, women carrying a coffin. Dad, he said, it made him proud. I imagined his chest swelling, enough air to blow out all the church candles.
Three months later, on the Tuesday in July, I also wanted my three brothers, two sisters, and I to carry Dad's coffin into the church and out again on the Wednesday. No breath left in him then to swell his chest, to quench light. But, yea, I wanted. Our brothers and husbands said we couldn't. Too weak. Too emotional. Dad too heavy, his coffin too big. I said, too, by God.
My sisters and I, we tested our strength. On the Tuesday, with our brothers, we carried Dad's coffin from his house and out to the shiny hearse. Inside voice said fool, said we'd drop him, said coffin crack asunder, said he'd roll and break, said serve you right for wanting spectacle. Serve. You. Right.
We carried. From the house to the hearse. From the hearse and across the churchyard and up the stone steps and along the aisle to the altar. Heavy. Heavy nothing like my mother. Heavy hard to breathe. Heavy hard to keep my eyes open. Heavy hard to stay standing. To keep walking.
After, a red line marked my shoulder, that summit right at the meeting of the neck. Later that night, pain and tenderness, and in the days that followed bruising.
The next morning, on the Wednesday, to take Dad out of the church and into the hearse and to the cemetery and into the grave on top of our mother, I carried Dad on my left shoulder, marking it too with a hot line, with tenderness, with a bruise that never ripened beyond red. I thought, too, by God.
Gone the coffin. Gone the flowers. Gone the mourners. Gone the pretty soprano on the altar and It's Time to Say Goodbye, her voice as marvelous as the flight of angels. Gone the hole in the ground. Gone our mother. Gone our father. Gone both bruised shoulders. Gone.
Heavy. Heavy stayed.
—
Ethel Rohan is the author of the new story collection, Goodnight Nobody. "Never Seen the Like" is an excerpt from her forthcoming short e-book memoir, His Heartbeat in My Hand, which will be published by Shebooks later this year. To learn more, visit Ethel Rohan's website.