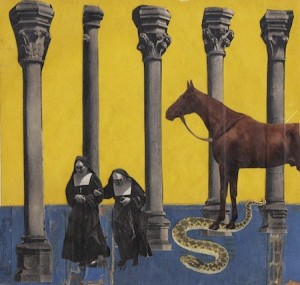 At six, I mastered Pig Latin, that clunky language inherited by children. "E-way ate-hay iver-lay or-fay inner-day," my brother and I whispered, pretending to stick our fingers down our throats. At eight, I learned Morse code using a handheld flashlight our family physician had given me. With my thumb, I triggered short dits and long dahs that shone out my bedroom window into the dark, careful not to signal a false SOS. "Hello. Hello. Hello," I messaged to the stars. At ten, I secured my dollar-store diary with a code that replaced letters of the alphabet with corresponding numbers. The inane details of my dreams—"A ship with gigantic white masts, no wind"—lay safely imbedded in rows of numbers. As teenagers, my brother and I spoke openly about our parents in French, which we were both studying. It gave us a way to commiserate without fear of punishment. "Notre mère est bête," we chuckled. "Elle ne peux pas parler quoi que ce soit mais en anglais."
II.
This fall when I returned to Indiana, I went to dinner with my extended family and then visited my aunt's house. My cousin and I listened to her mother and our uncle recall stories from their childhood, as they often do. We had already heard the one about the iron kettle they buried in my grandmother's backyard when none of the five kids would wash it. "Do you remember the night Ethel flashed the porch light signal, and then we had to flash the porch light signal and every cop in town was parked on our street, and then Ethel was outside in her underwear, yelling?" my aunt asked. They laughed heartily, but we didn't know what it meant. "In the trailer park," she said, "when you were getting knocked around, you flipped the porch light three times so a neighbor would know to call the police." They laughed and laughed.
III.
The used book store in my neighborhood is run by an unfriendly Austrian named Norbert. Tucked away from view in a gravel parking lot, a sign in the window reads "open" in electric red letters, even when it is closed. I read an article about Norbert in the local paper that painted him as wildly interesting—a chef trained in classic European cuisine that can also provide a European-skewed narrative of the settlement of the New World or provide an appendix's worth of background information on most of the books he has in stock. Bookish folks are often something like a tribe. With just a few phrases, asking for a specific back issue of a literary journal or a little known novel written by a little known author, they identify one another. Smiles ensue. Nods of appreciation. At times, conversation or debate. But not with Norbert. He seemed angry when I spoke to him. Annoyed even, though I bought seven or eight overpriced volumes from his stacks on my first visit. Most of my purchases that day were predictable: an Annie Proulx novel, an essay collection by Joan Didion, a slim volume by Olaudah Equiano, a Little Brown anthology of literature. Secret Writing drew my attention because it appeared hidden among the other books, mis-shelved among travel narratives and guides for planning vacations to Asia. The book was pocket sized, a third of an inch thick. Its chapter on written codes used in mystery stories, such as in Edgar Allen Poe's "The Gold Bug," explained how symbols with lines that point in a particular direction interspersed with dummy symbols added at the code-writer's whim could either twist the code into perfect understanding or bait code crackers, leaving the secret unintelligible to all but the code writer.
IV.
"Remember the split pea soup?" my aunt asked. My uncle's chest heaved with laughter.
"Mom tried to poison Daddy with arsenic one night," she explained. "She put it in his soup and told us what to say to the police if he died. If he didn't die, we were never supposed to talk about split pea soup again and pretend everything was normal."
I knew he had not died. Not that night. But I imagined my grandmother's instructions, "Waggle your heads this-a-way if you understand," and the five heads nodding in unison. "Now let me hear you say it."
"The arsenic fell into the soup."
"The arsenic fell into the soup."
"The arsenic fell into the soup."
"The arsenic fell into the soup."
"The arsenic fell into the soup."
____
Angela Palm is the author of Riverine: A Memoir from Anywhere But Here, winner of the 2014 Graywolf Press Nonfiction Prize (forthcoming 2016). She owns Ink + Lead Literary Services and is the editor of the anthology Please Do Not Remove. Her work has appeared in DIAGRAM, Paper Darts, Midwestern Gothic, Tampa Review, and elsewhere. She lives in Burlington, Vermont.