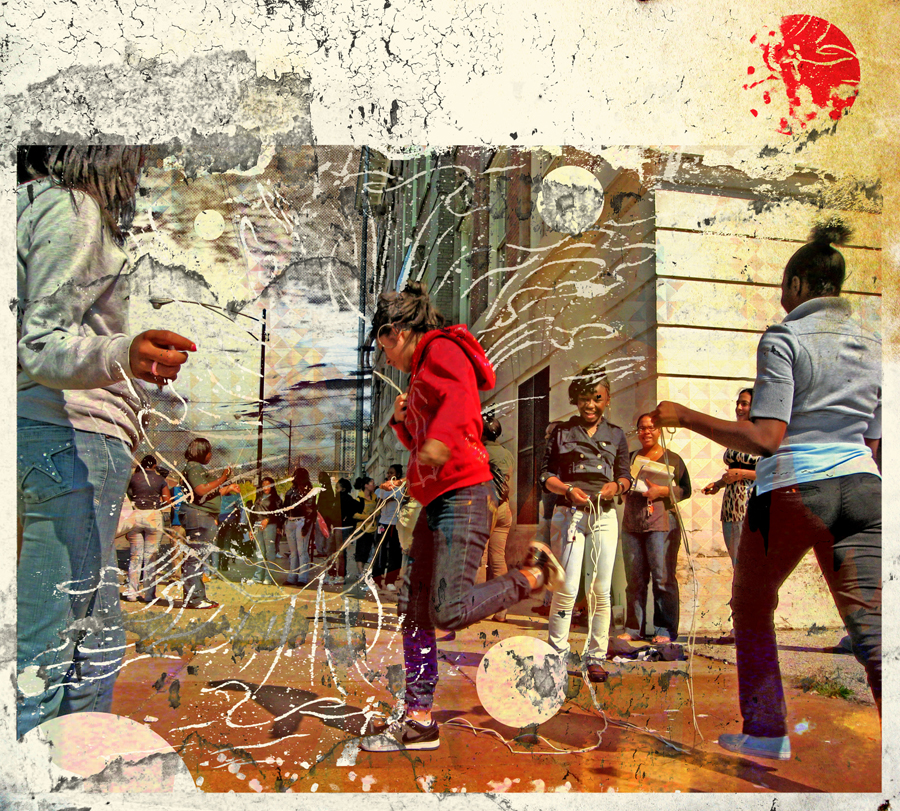 I sat beside a white boy in a dead bar. Alone, he slurped beer, watched football. Hair yellow like an unpeeled onion, no signs of sun on his skin. A typical white boy. No match for me, yet, I started it, impressed him with what I knew white boys liked: Metallica, tits, Seinfeld. He was nice. Bored, I guess. We talked for a while. Both in our twenties, both southerners.  I desired his attention because he didn't give it freely. He spoke anxiously. An awkward laugh followed every statement, every eyeball-dash at my cleavage, each concerned glance upward at the wild black kinks springing from my head, and then, each nervous scan behind him, around the room. His fear empowered me.
*
In fifth grade, I fought a white boy beside a stack of gym mats. He touched me down there. I looked like a China doll, my aunt said, fingering my jet hair. Sizzled-straight, it framed slender shoulders, stuck against my skin by hair grease and sweat. She favored me, they all favored me. Lighter than my cousins, my honey complexion drew their wrath. White Girl. Think you cute. Headaches from pulled hair. Arm scratches from fighting. I fought him, at least tried. We never played together. Yet he chased me around the gym, cornered his prey. We were children, just children, and maybe to him, that was what children did. But there was authority to his touch, an exerted right, his God-given right to me. Because I was pretty. He said I was pretty. For a black girl.
*
Another laugh, another glance around. My new friend took in my hair again, so I asked him what he thought about it. He said it was cool. I scooted closer to him, my cleavage slow-dancing in his eyes—up, down, out, in—with every breath. I offered: do you want to touch it? We had an audience, another black woman beside me. I ignored her. Her disapproving stare should've told me something, the way she shook her head to herself. I offered him: do you want to touch it?
*
A white man used to visit my grandmother. He was married with kids my age. He drove a red truck, flying down our dirt road like it was his. I'd get home from school or playing and see his truck in the yard.  The rule: don't go in that house when that truck in the yard. Middle of the day, face red with sweat—I remember him flushed and always smiling—brown mullet glued against his neck. He'd walk right on in the house, no knocking or nothing as if it were his. I grew up in front of him. By thirteen, he looked at me funny, but most grown men did. Now, he'd come, and I'd leave, or I'd stay, and he'd give my grandma the money right in front of me.
Wenches: what we were called during slavery.
And without me seeing it, I knew he did that every time—every time, he gave my grandma money like she was his.
*
In college, I let the white boys I worked with see my tits.
We were friends. The bar was slow. I wasn't the only girl flashing my breasts that day. It was alright.
My title: the black girl. The only one, surrounded by white boys. The conversation: the color of my nipples. Were they coffee-colored with large areolas? Were they saggy National Geographic tits? I laughed. We were friends.
It was alright because of that time that drunk guy called me a nigger, and they threw him out. Cool because they liked rap, were from Baltimore or Philly, their boy was black.
White boys who talked about the Asian hostess' sushi.
White boys who said they'd never date a black girl, even if she was pretty for one, or friends first.
White boys who wanted to party with my black girlfriends after work—three, four in the morning. And when I said no, they're sleeping, white boys who demanded I wake their nigger-asses up.
White boys who refused to apologize. But we were friends, though.
*
Now, at a different bar, a different white boy extended a shaky hand toward me. I lowered my head. Who knows what I expected being petted felt like. His touch was surprisingly soft. He rubbed my hair, only bending the ends.
Done, he cried, "I did it!" His accomplished smile. My power disappeared. If it had ever existed to begin with.
__
Tyrese L. Coleman is a writer, wife, mother, attorney. She is the fiction editor for District Lit, and an associate editors at SmokeLong Quarterly. A 2016 Kimbilio Fiction Fellow and a nonfiction scholar at Virginia Quarterly Review's 2016 Writers' Conference, her prose has appeared in several publications, including PANK, Buzzfeed, The Rumpus, Hobart, Washingtonian Magazine, and listed in Wigleaf's Top 50 (very) short fictions.
Artwork by Damon Locks