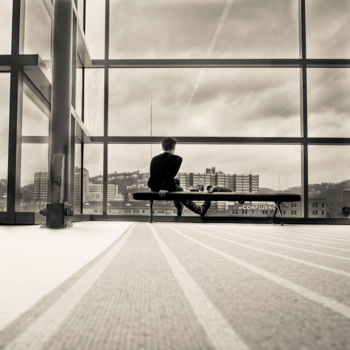 They brought food on Tuesdays because my mother's chemotherapy happened on Mondays. Later, when my mother was regularly hospitalized, they rang the bell on Thursdays too. Their hands balanced hot lasagna, cold vegetables, yeasty bread that made bright steam in the dark winter air. They brought pork roast, beef roast, squash, potatoes. They brought their first vegetarian-cooking efforts, apologies turning breath into laughter as they stood in the doorway. In these dark days of winter, in the dimness of a house quieted so my mother could heal, cooking was supposed to be the work of my hands, to coax my mother to eat, to keep my father healthy, to do something, anything. Some days, I had nothing left to give, nothing inside me to fill the empty pot on the stove, to preheat the cavernous oven, my chest cavity like the chamber of a bell, my heart tolling against my ribs in the empty silence.
And then, the doorbell would ring.
*
Bells have always been a part of our daily life. The Catholic church bells across the street from my childhood home rang at eight, noon, and six in the evening. The Lutheran church bells rang nearby on Sundays. Our beagle-springer rescue, Katy, named for Protestant reformer Martin Luther's wife, often joined her voice to the ecumenical ringing from our back steps. My alma mater's golden-bricked campanile played the Westminster Quarters; the German Glockenspiel in my mother's hometown of New Ulm played its thirty-seven-belled carillon three times a day.
*
On the day of my mother's last chemotherapy, she rings the bell we've walked by every time we visit, eight inches tall, brass, inscribed with the name of the family who donated it. The nurses and staff gather to watch my mother snap the clapper, three loud, sharp tones that echo through the infusion center. They hug her, some with tears in their eyes. She smiles.
*
In Greek, the practice is xenia, hospitality, but more broadly it is the practice of showing kindness to strangers who appear on your doorstep and may or may not be a god in disguise. Such a small thing, a salad of cucumbers, tomatoes, and onions, but that bowl represents chopping time and energy we sometimes do not have. Such a small thing on the part of the giver, as we know from years of ringing the bell ourselves, but we did not know how to receive, to hold our hands open.
*
A man in orange shirt, J., comes to investigate, peering at the bell as it quiets. It is his first time here. My mother listens patiently to his story.
I hear the tone of voice J.'s doctor used, because I held my mother's hand the day her doctor told her: You have cancer. Later, my mother says, you don't really get names in there. And you're more likely to talk about road construction than "what are you in for?" There's a silence to these exchanges, epics to be written in the spaces between words, in what cannot be said in response to you have cancer. What else is there to say beyond I'm so sorry? Cancer is a sound that echoes off the walls of our lives, invisible but present. I can talk about what I know about chicken stock and 100.4° fevers and neutrophils, but this is not my silence to fill. I marveled at the intimate details J. shares with a perfect stranger, this man looking for anyone to understand what he's feeling, anyone to understand that even though you may have a supportive group of family and friends, they'll never know what it's like to hear your doctor say cancer, what it feels like to have that port in your chest, to feel the hair you are losing stick to your lips. Cancer is individual. In the end it must be, even when my mother's friends ring the doorbell and tell her they had cancer too, that cancer becomes invisible when hair grows back, when the battle inside their bodies returns to silence. I picture J., filling the silence with his life story as my mother rang the bell.
That was us, six months earlier, unsure, afraid in this silence, looking for the human connection.
Maybe J. will remember on his first day he met a woman named Barb as she rang the bell and then walked out the door.
__
Karen Babine is the author of Water and What We Know: Following the Roots of a Northern Life, winner of the 2016 Minnesota Book Award for memoir/creative nonfiction, finalist for the Midwest Book Award and the Northeastern Minnesota Book Award. She also edits Assay: A Journal of Nonfiction Studies. Her work has most recently appeared or is forthcoming in North American Review, Passages North, Terrain.org, Sweet, and others. She lives and writes in Minneapolis.
Photo by Heather Kresge