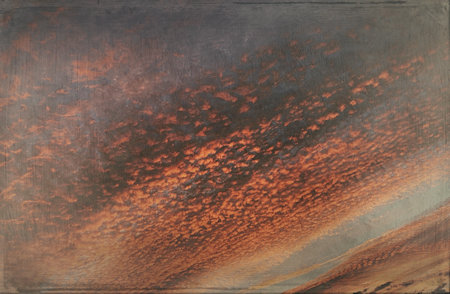 Coyote chases his tail
under the street lamp convinced he can catch what he cannot release the footfalls behind him fingers tapping his shoulder his deceased father's family still whispering his name the one clue they left him one half of himself in the white chiseled letters on the white chiseled marble his own reflection grown cold grown hard with the shape of a legacy he tries to re-see the two sides of himself keep gnashing their teeth drawing mixed-blood memories of how he does not belong on his mother's home soil nor with moths in the closet still circling the box with the tarnished silver ashtray the thin rusted sword the cracked turquoise ring split straight down the middle his patriarchal inheritance he slips on his finger a too-tight reminder how two edges meet in the fracture between its own kind of belief as he rises through the darkness with gnats and mosquitos drawn by the pull of the counterfeit moon.
Coyote runs in circles
along the acequia behind his north valley house training hard for a race he will run his whole life from one ambition to another and one dream to the next his old home one step behind him his new home one step ahead never reaching never leaving this ever-widening orbit his heart pumps endurance his heart pushes pain he is fueled by desire a hunting a haunting of all he has lost and what he never seems to find his own place his own culture his own name a line among half-known ancestors rooted deep in shifting sands washing in with the river laying thick a fertile soil a source of nourishment yet draining away as he crosses the finish line to catch his breath the shine of his sweat wipes all illusions clean to reveal a privilege laid bare-chested before him an inherited whiteness he will never outpace.
Coyote joins a gang
of other misfit mutts for protection or belonging or a place to just stand beside the buffalo boy and his horned-toad cousin and their field mouse friend all draped in white skin with brown names and brown skin with white names wearing the colors they truly believe the blue denim mountains and the rust-stained llano wind through chain-link diamonds they step toward redemption through beer-bottle weeds with black magic markers they write on their backs the weight of their silence their absent fathers their worry-line mother when they finally choose a name there is only one choice the underdog outlaw with black hat and black cape and thin silver sword on the after-school screen his "Z"-shaped scar a victory "V" in the middle school halls behind the masks of Los Zorros they demand to be seen.
Coyote finds a dumpster
in a furniture store alley still holding the bones of a broken-down couch his family always wanted but could never afford surrounded instead with hard-backed benches and cobweb chairs rescued by his mother from ghost-town villages and second-hand stores with nails and wire she breathed new life into their house of memory and dust-streaked dreams their sanctuary of abandoned and misfit things both unusual and distinctive but fragile and stiff in the way he and his four siblings can never sit close neither touching nor relaxing among mismatched cushions on the oak-plank floor once laid by their father so he drove with his uncle with headlights off to steal the frame into the pickup bed then onto the porch to stuff with cotton and foam-rubber padding into an upholstery pattern of gold autumn leaves with crimson roses remaking a space of recycled between where all of his family gather to rest.
Coyote sheds his skin
while no one is looking behind a curtain of pine chamisal and sage beneath the red-chiseled cliffs of the Jemez Mountains where his family gets lost to discover themselves in a roadside ravine a swimming-hole oasis with wish coin stones and a carpet of diamonds the watermelon turns in the snowmelt stream their world on its axis his mother can breathe he sculpts a new face with bone- brown skin and finger-root eyes reaching all the way back joining both of his selves drying salt on his arms on a broad-blue boulder exposed the core under the white llano sun just a boy as himself no more reason to run.
__
Harrison Candelaria Fletcher is the author of the essay collection, Descanso
for My Father; the memoir, Presentimiento: A Life in Dreams; and his newest, Finding Querencia: Essays from in Between. Recipient of a 2022 National Endowment for the Arts Creative Writing Fellowship, Autumn House Press Nonfiction Prize and Colorado Book Award, his work has appeared widely in such venues as New Letters, TriQuarterly and The Best of Brevity. He teaches at Vermont College of Fine Arts and Colorado State University.