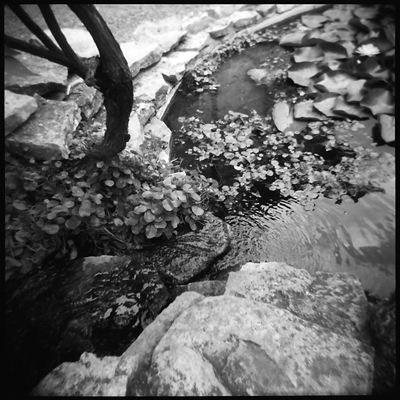 Her name is Evelyn. She's lived in her house since 1960. She was born in 1915 or 1916, near the Nooksack River, which still floods its banks.
These are the facts.
This is the mystery: a 91-year-old woman and me. She can't hear me, but I talk with my hands.
Evelyn's surname is also a woman's name, old-fashioned and elegant. Her life in the past included a husband. Her hair was black. Our street was barren. The trees must've sprouted after she moved in. And the automobiles! Long, sexy, glistening.
•
Our street is unusual because there is no alley. Out front is the park and out back, another street. In a town of alleyways this marks a distinction. We can see Evelyn's front porch from our backyard.
Not long after we moved in, I heard a scritch and looked across the backyard to someone's porch. The someone was an elderly someone, fragile, stooped nearly in half. She wore a bright red crocheted vest over a purple polyester shirt and beige polyester pants, with some brassy things for decoration. Her hair was silver, curled into ringlets. She opened the flap to her mailbox, then let it snap shut.
•
For weeks I watched Evelyn water her hanging plant, hung too high by the door. Every morning her routine was the same. She placed a stepstool in front of the plant and set one foot on the stool. It wobbled, she wavered. She went back inside. Came out with a pot of water. Threw the water at the plant, streaking the side of her house with wet.
My first gift to Evelyn was a watering can: red plastic, shaped like an elephant.
•
Evelyn's TV is always on. I don't know if she watches it, listens to it, or simply likes blur and fuzz for company. Maybe it had always been on, and the husband who died never turned it off. Perhaps it was her life then, too.
One day I go over to her house and while we are sitting, not talking, my cell phone rings. I show her the generic pictures that fill the screen, pictures I don't have the technological savvy to replace. There's a puppy, a kitten, and an animated bear.
She stares at the puppy for a long time.
"My goodness." She grins. "Isn't that something?"
I want to show Evelyn the internet. Bring my laptop over, catch one of the inevitable open channels, and call up the web for her gaze. But I'm also afraid that if the old century meets the new, the sky will fall. This small town is "the city" to her. She's a farm girl. A girl born on the floodplain. A girl who rode horses and still curls her hair.
•
One of my neighbors volunteers with the local historical society. When she learned that I knew Evelyn, she asked to meet her, to record her history. Susan followed me to Evelyn's house one afternoon, and we knocked on the door. When Evelyn didn't answer, I climbed the back steps and tapped on her kitchen window. Susan looked horrified by my rogue knock, by the frail state of Evelyn's porch. This was not the sanitized version of elder lore she'd expected. When Evelyn finally answered, it only got worse.
"Who are you again?"
I told her my name, and reassured her that we weren't selling anything. She reluctantly agreed to let us in. We asked to see photographs and persuaded Evelyn to bring out an album. It lay flat on the coffee table in front of us.
"What do you want?" Evelyn kept asking, looking at Susan.
After Susan and I left, I returned to Evelyn's house with a bowl of blackberries. We sat, not talking.
•
We share a view. The back of our house meets the front of her house. We share a street, and the bikes that ride it, and a plump gray cat named Aubergine who tidies herself in the crook of the road. We share a taste for blackberries and chocolate chip cookies. We throw water at things, and hope that they'll grow.
—
Carol Guess is the author of six books of poetry and prose, most recently Tinderbox Lawn. Forthcoming books include Homeschooling, a novel, and Doll Studies: Forensics, a prose poetry collection.
Photo by Kristin L. Ware